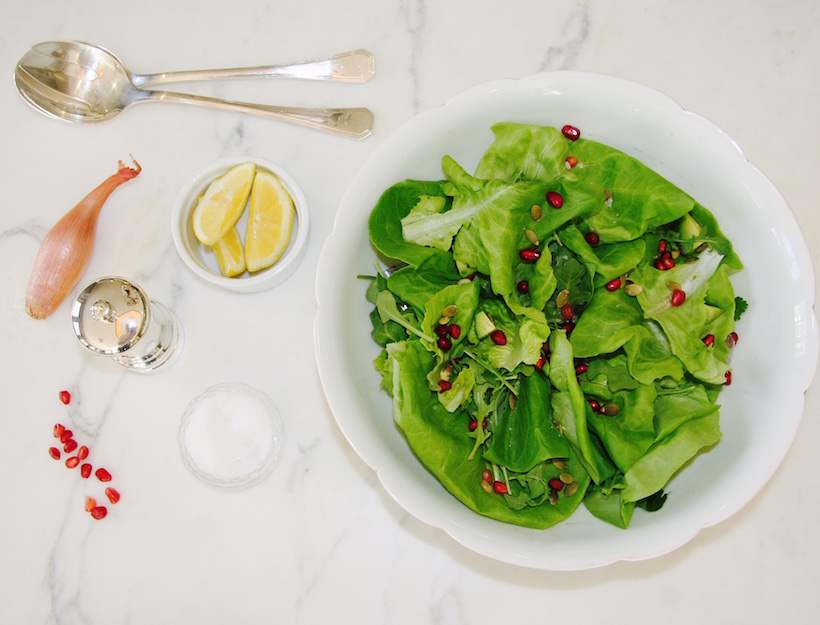 Winter Salad with Pomegranate Seeds
This simple salad is a perfect first course for any winter menu.
For the salad:
1 small head butter lettuce, cleaned and torn into large pieces
1 handful arugula
¼ cup pomegranate seeds
¼ cup mixed chopped herbs (we like mint, basil and cilantro)
1 small avocado, diced
3 tablespoons toasted pumpkin seeds
For the dressing:
2 tablespoons minced shallot (about 1 small shallot)
1 tablespoon champagne vinegar
1 tablespoon lemon juice
1 tablespoon hazelnut oil
3 tablespoons olive oil
½ teaspoon salt
1 teaspoon honey
To make the dressing, combine all ingredients in a jar or other container with a tight-fitting lid. Shake until emulsified.
For the salad, combine the lettuces, pomegranate seeds, fresh herbs, and avocado in a serving bowl. Toss with salad dressing then garnish with toasted pumpkin seeds.
Originally featured in Date Night Dinners