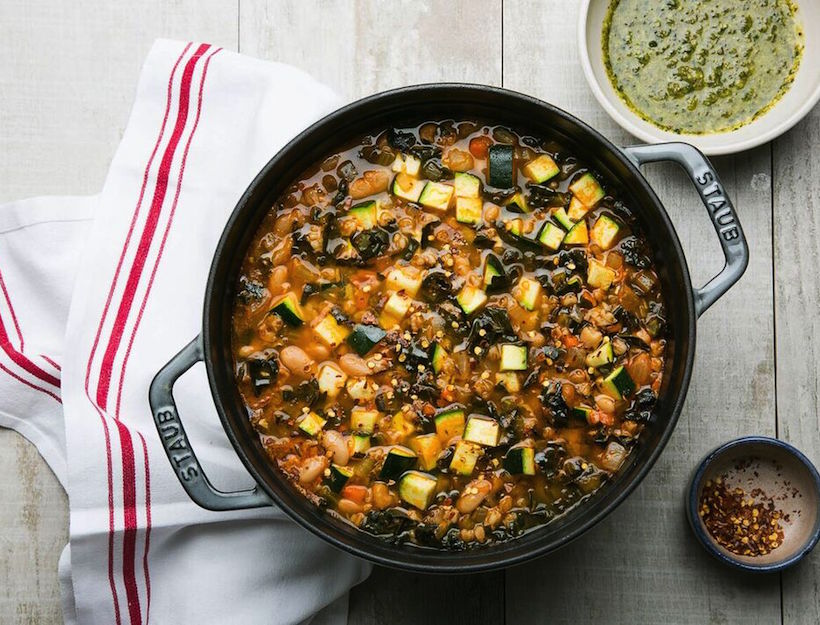 Winter Minestrone
Full of vegetables, beans, and farro, this hearty soup is even better the next day. We like to make a big batch on Sunday and eat throughout the week.
3 tablespoons olive oil
1 medium red onion, finely-diced
1 large carrot, peeled and diced
2 celery stalks, diced
3 garlic cloves, minced
2/3 cup farro (uncooked)
2 teaspoons rosemary, finely-chopped
1 teaspoon thyme, finely-chopped
2 tablespoons tomato paste
4 cups chicken stock
2 cups water
2 cups packed chopped kale
1 15-ounce can cannellini beans, drained and rinsed
1 large zucchini, diced
salt and pepper
crushed red chili flakes, to garnish (optional)
pesto, to garnish (optional)
1. Heat olive oil in a pot of dutch oven over medium heat. Add onion, carrot, celery, garlic and a large pinch of salt and sauté 5 minutes.
2. Add farro, rosemary, thyme, tomato paste, and another generous pinch of salt and cook 2 more minutes.
3. Add chicken stock and water, bring the mixture up to a boil, then reduce the heat and simmer for 10 minutes.
4. Add kale, beans, and another pinch of salt and return to a boil.
5. Reduce heat and simmer another 10 minutes.
6. Add diced zucchini, turn off the heat, and let zucchini cook in the warm broth for 1 minute.
7. Taste for seasoning and add salt and pepper if needed.
8. Serve hot garnished with crushed red chili flakes and pesto, if desired.
Originally featured in Quick One-Pan Dinners