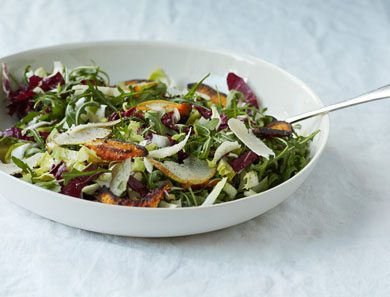 Winter Greens, Kabocha Squash & Peeled Pear Salad
We mix endive, radicchio and arugula, but choose whatever's in season at your local market for this satisfying (and pretty) winter salad.
for the salad
1 small head of radicchio, sliced
2 handfuls of arugula
2-3 heads of endive, sliced
½ kabocha squash, sliced into ¼ inch spears
½ a pear
sea salt
freshly ground pepper
block of parmesan (optional)
for the dressing
1 shallot, sliced
¼ cup white balsamic vinegar
½ cup olive oil
1. Pre-heat oven to 400°F. Place kabocha slices in a single layer on a baking sheet. Drizzle with olive oil, sea salt and freshly ground pepper. Place in oven for about 5-8 minutes. Flip squash and cook for another 5-8 minutes, until lightly browned on each side. Remove and let cool to room temperature.
2. Place lettuces in a large serving bowl. Using a potato peeler, peel the pear into light, translucent slices over the leaves. Do the same with the parmesan if desired, adding as much as you'd like. Add the squash, salt and pepper to taste and drizzle the dressing. Toss and serve.