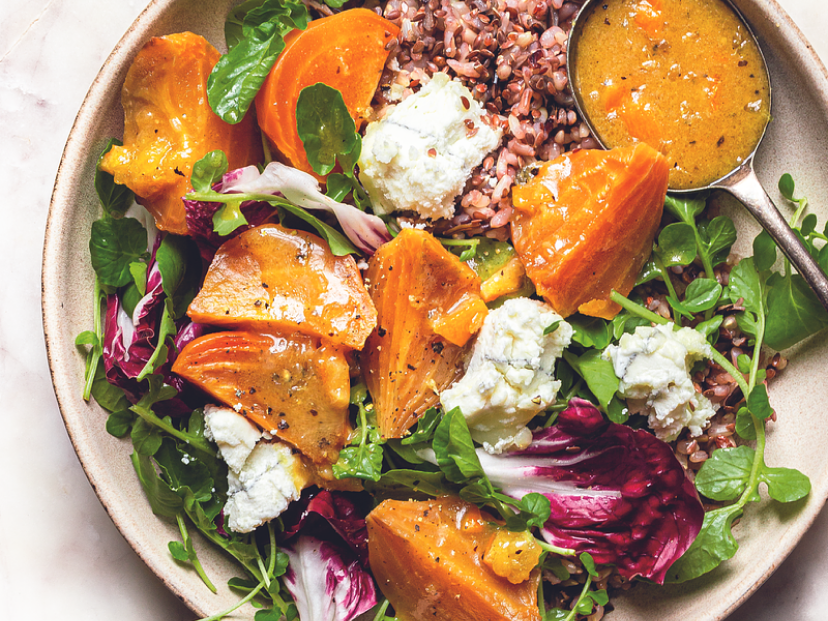 Wild Rice Bowls with Roasted Beets, Goat Cheese, and Preserved Lemon Drizzle
Beets are polarizing to many—you either hate them or love them—and if you're in camp "beets taste like dirt," then the discovery of milder, sweeter golden beets might just change your mind. I roast them in a Dutch oven instead of using foil, with fresh bay leaves, rosemary, and thick slices of sweet onion that caramelize the bottom of the pot. Wild rice, peppery salad greens, and big chunks of goat cheese play more than supporting roles; each element is delicious in its own right. The hearty vegetarian rice bowls are drizzled with a lively preserved lemon vinaigrette right before serving, and the brightness just makes everything pop.
1. Roast the beets: Preheat the oven to 400°F with a rack in the center position.
2. Line the bottom of a large Dutch oven with the onion slices, then arrange the beets on top. Add the water, olive oil, coarse salt, rosemary, and bay leaves. Roast, covered, until the beets are fork-tender and the onion is slightly caramelized, 45 to 50 minutes.
3. Meanwhile, cook the rice: In a medium saucepan, combine the rice, water, salt, and olive oil and bring to a boil over medium-high heat. Reduce the heat to low and cook, covered, stirring occasionally, until the grains are tender and the water is absorbed, 40 to 45 minutes. You'll know the rice is ready when some of the grains start to break.
4. Make the vinaigrette: In a pint jar, combine the olive oil, lemon juice, maple syrup, mustard, preserved lemon rind, and pepper. Cover and shake vigorously until emulsified.
5. Once the beets are just cool enough to handle, peel the skin and trim away any tough parts near the stems. Scoop out the caramelized onion and stir into the rice, if desired. Discard the rosemary sprigs and bay leaves. Cut the beets into bite-size pieces.
6. For serving: Divide the rice, greens, beets, and goat cheese among bowls. Drizzle each with a few tablespoons of the preserved lemon vinaigrette and serve.
Excerpted from South of Somewhere. Copyright © 2023, Dale Gray. Photography copyright © 2023 by Dale Gray. Reproduced by permission of Simon Element, an imprint of Simon & Schuster. All rights reserved.
Originally featured in Quick Recipes for Flavor-Packed Dinner Bowls