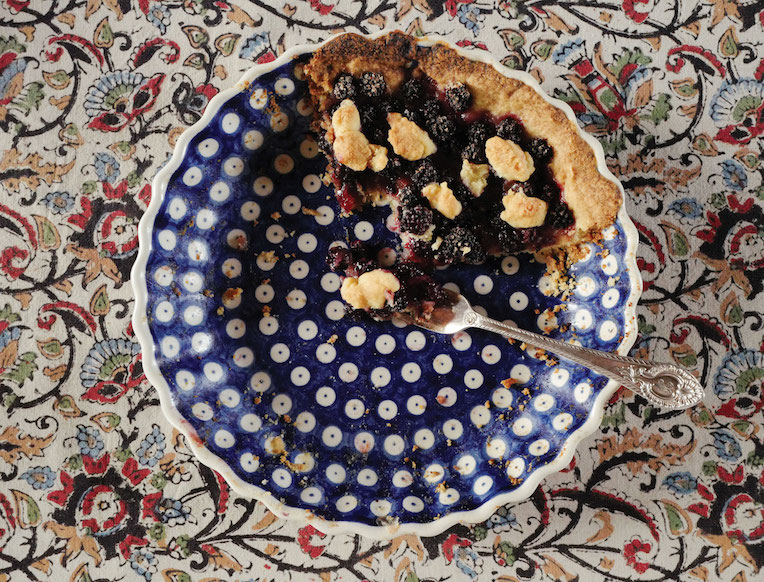 Wild Blackberry Crumble Tart
"My husband, Christopher, loves blackberries. So each fall, we make sure to have a blackberry-picking session together—they grow all over our farm—and I then turn them into something delicious to eat for dessert. I used to make blackberry and apple crumble, but we got tired of crumble during rhubarb season (which is earlier in the summer), so now I make a slight variation, which is this crumble tart." 
1. Preheat the oven to 400°F. Butter an 8-inch tart pan.
2. Put all the pastry ingredients into a food processsor and pulse briefly so that the mixture just comes together. Press all but 3 tablespoons evenly into the prepared pan (reserve the remainder to crumble on top) and set aside.
3. Mix together the filling ingredients, except the berries. Spread three quarters of this mixture over the base of the tart.
4. Toss the blackberries with the remaining dry mixture and tip onto the tart shell.
5. Crumble the reserved pastry on top and bake for about 40 minutes until bubbly and golden. Serve immediately.
Recipe excerpted from Farm from Home. Copyright © 2018 by Amanda Brooks. Published by Blue Rider Press, an imprint of Penguin Random House LLC.
Originally featured in Three Fantastic Recipes from Amanda Brooks's English Countryside Farm