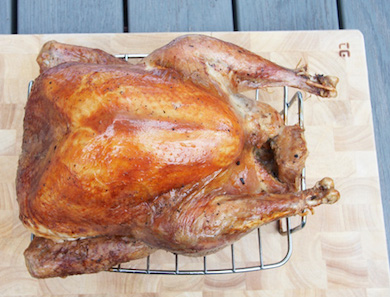 This recipe is a smaller-scale version of Martha Stewart's accurately named Perfect Roast Turkey. It's not afraid of butter.
1. Put your oven rack as low as it can go. Preheat the oven to 450º F.
2. Rub the turkey with a large handful of coarse sea salt. Rinse with cold water and pat completely dry with paper towels. Let it hang for a minute.
3. Get yourself a big piece of cheesecloth. Fold it in half and then in half again. Cut it so you have a four-layer square that's roughly 15 x 15. Combine the melted butter and wine in a large bowl and soak the cheesecloth in it.
4. Back to the turkey. Stuff the cavity with some of your Classic Bread Stuffing if you'd like. If not, sprinkle the cavity with salt and pepper. Feel free to throw in a quartered onion, a few cloves of garlic and/or a halved lemon. Tie the legs together with a piece of twine. Rub the four tablespoons of softened butter all over the turkey and sprinkle the outside with plenty of salt and pepper.
5. Set the turkey on a roasting rack inside of a large roasting pan. Squeeze out your cheesecloth (it should still be damp, just not dripping) and drape it over the turkey, completely covering the breast and most of the legs. Be sure to save the leftover butter and wine.
6. Roast the turkey for half an hour. Take it out of the oven and baste it (over the cheesecloth) with some of the leftover butter and wine mixture.
7. Turn the oven down to 350º F. Let the turkey roast for another two hours, basting every half hour with the butter and wine and the juices from the bottom of the pan.
8. Remove the cheesecloth and cook for another hour to hour and a half, still basting every half hour until a thermometer inserted in the thickest part of the thigh registers 180º F.
9. Remove the turkey from the oven and transfer to a board, letting it rest for at least half an hour before carving. Be sure to save everything in the bottom of the pan for gravy.
Adapted from Martha Stewart's Perfect Roast Turkey.
Originally featured in Thanksgiving Recipes