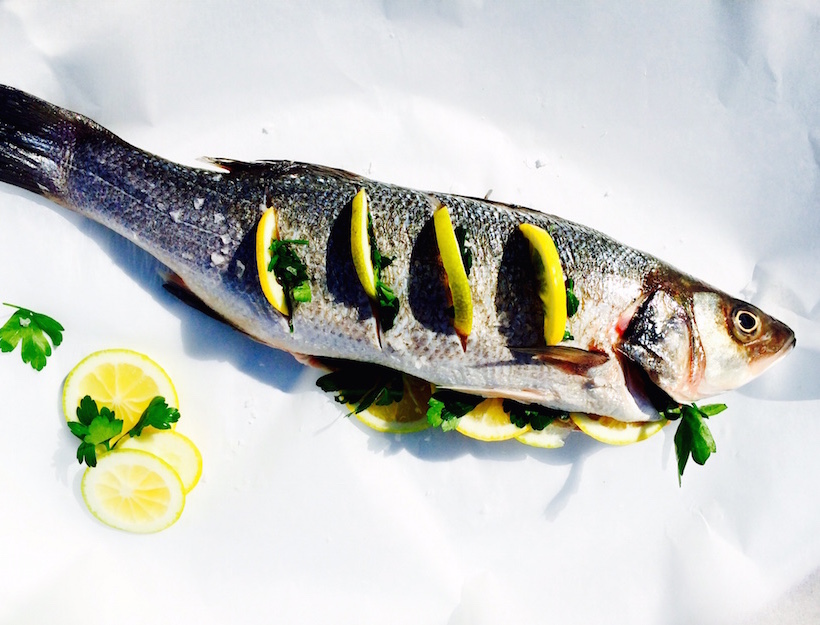 Whole Roasted Fish with Salsa Verde
As easy as it is impressive, this simple and elegant recipe is great for entertaining. Fish cooks so nicely when left on the bone.
1. Preheat the oven to 425° F.
2. Cut four or five slits on each side of the fish, about ½" into the flesh.
3. Combine the herbs and roughly chop them.
4. Stuff each opening with a slice of lemon and a little bit of the herb mixture. Put any remaining herbs and lemon slices in the cavity of the fish.
5. Lay the fish in a large roasting pan. Drizzle with the olive oil and sprinkle with black pepper and salt. Roast for about half an hour, or until the fish is firm but still moist.
6. While it's roasting, make the salsa verde: put the anchovies in a bowl and cut into small pieces with a knife and fork (saves you a board to wash!). Stir in the mustard and vinegar. Add the herbs, slowly stream in the olive oil, and season with pepper.
7. To debone (though we suggest presenting the fish whole first, for presentation): gently spoon the top filet off the bone. You can then easily peel the spine off in one piece from the bottom half.
Serve the fish with plenty of Salsa Verde.
Originally featured in Holiday Recipes