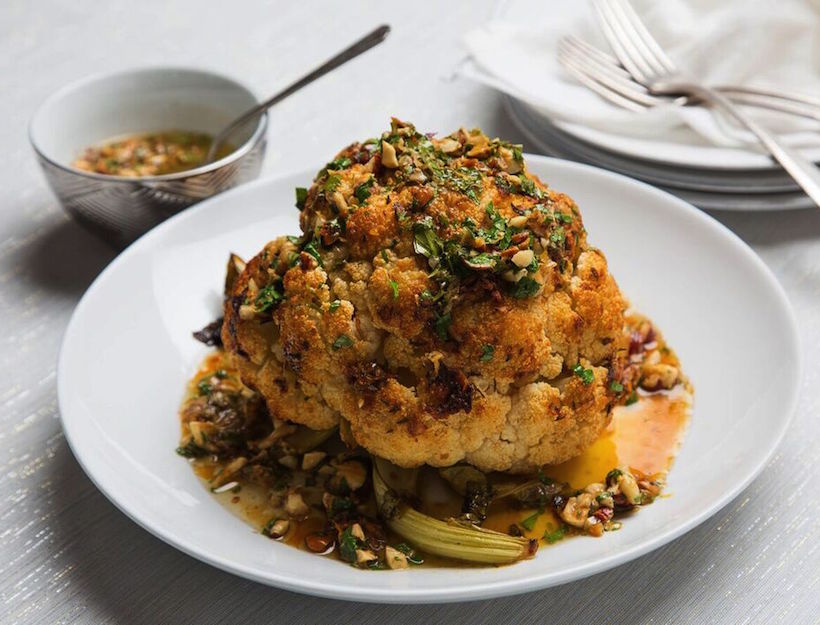 Whole Roasted Cauliflower with Hazelnut and Sherry Beurre Noisette
Rich and nutty from brown butter and toasted hazelnuts yet bright with sherry and sherry vinegar, this is a very welcome side dish at any Christmas feast.
1. Preheat the oven to 350°F.
2. Peel the garlic, then place in a mortar with the paprika and the thyme leaves and bash well with the pestle till it forms a a rough paste. Then muddle in 2 tablespoons of olive oil and season to taste. Zest the lemon into a separate bowl and set aside.
3. Trim the outer cauliflower leaves. Trim away and discard the stalk so that the cauliflower can sit flat, then cut a cross into the base. Rub all over with the paprika paste, then place in a medium casserole pan. Drizzle over the sherry and squeeze the lemon juice on top. Cover and pop in the hot oven for around 1 hour 30 minutes, or until tender, removing the lid for the final 40 minutes.
4. Meanwhile, toast the hazelnuts. Place them on a baking sheet and toast at 350°F for about 10 minutes or until lightly golden.
5. Allow the hazelnuts to cool for 5 minutes, then go over them with your knife, leaving them in large chunks or even halves.
6. Make your beurre noisette. Put the butter in a small pan and melt slowly. Once the butter begins to froth, keep a close eye on it as it can burn very quickly at this stage. As soon as the butter turns light brown and smells of nuts, hit the pan with the sherry vinegar to stop the cooking. Remove from the heat. Roughly chop and scatter the parsley into the butter along with the crushed hazelnuts and reserved lemon zest.
7. Evenly pour over the roast cauliflower, then carve it up and serve as part of a big spread.
Originally featured in The Ultimate Holiday Dinner Party Menu (and How to Pull It Off)