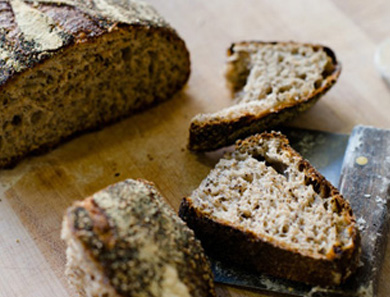 Whole-Grain Seeded Bread
Not for the faint-hearted, this whole-grain dough recipe with lots of yummy seeds and prefermenting was created by Chad Robertson for goop.
for the poolish pre-ferment:
200 grams all-purpose flour: 100 grams white and 100 grams whole wheat (both all-purpose)
200 grams water (70℉)
1 gram active dry yeast
for the dough:
85 grams seed mixture: flax, poppy, and toasted sesame
650 grams whole-grain wheat flour
350 grams sifted white wheat flour
700 grams water (70℉) (750 grams if using natural leaven)
400 grams poolish preferment or 200 grams if using natural leaven
30 grams salt
1. Prepare the preferment the day before you will mix your dough. To make the poolish in a bowl, mix the flour, water, and yeast. Let stand at cool room temperature overnight (10 to 12 hours). If you are not ready to mix your dough after the 10 to 12 hours at room temperature, put the poolish in the fridge and use within 8 hours.
If you'd like to make this dough with a natural leaven instead of a poolish preferment, start by mixing together 1 cup of flour (half white, half whole wheat) in a small bowl with enough warm water to make a loose batter. Cover with cheesecloth and let sit at moderately warm room temperature (70℉ to 75℉) for about 3 days. Uncover and discard half of the mixture. Add another measure of your flour blend with additional water to refresh. Cover again and let sit for about 2 days. Repeat this process again, feeding once per day until the starter is rising and falling in a predictable manner. Once the starter has reached this stage, you can feed it at night before bedtime and use it to mix your dough in the morning. If using this natural starter to leaven your dough, decrease the amount to 200 grams (per kilo of flour total) and increase the water to 750 grams.
2. At least 1 hour prior to mixing dough, soak the seed mixture with 85 grams of hot water to absorb water and cool to room temperature.
3. To mix the dough, add the water to a large bowl. Add the preferment and stir to disperse. Add the blend of white and whole wheat flours. Using your hands, mix thoroughly until no bits of dry flour remain. Let the dough rest for 20 to 40 minutes.
4. After the rest, add the 30 grams of salt with the mixture of seeds and incorporate into the dough. Dipping your hands in water, continue to fold the dough on top of itself to develop the dough and dissolve the salt. You can add a splash of water to help dissolve the salt. Let the dough rise for about 3 to 4 hours at moderately warm room temperature (78℉) giving a dozen turns in the bowl every half hour to continue to develop. After this initial (bulk) rise, you are ready to portion and weigh your dough into individual pieces for loaves and, after the final shaping, retard the rising for another day in the fridge to develop more flavor.
5. If you'd like to use the dough on the same day: Portion into 2 or 3 pieces and shape into rounds. Place each round into a linen-lined basket and let rise at the same moderate warm room temperature for another 3 to 4 hours before baking.
6. If retarding the rising for another 12-plus hours: Cover and place in the fridge for up to 16 hours.
7. When you are ready to bake, preheat your oven along with a heavy Dutch oven and a tight-fitting lid to 500℉. Remove the loaves from the fridge. Carefully flip the loaf into the preheated Dutch oven. Place the lid on top to seal completely and put back into the oven. Immediately turn the oven down to 470℉ and bake for about 20 minutes. Carefully remove the lid and bake out for another 20 to 25 minutes until deep golden brown. Remove the bread to a wire rack to cool.
8. If you're baking multiple loaves, carefully wipe the Dutch oven clean with a dry kitchen towel and repeat the process, beginning with preheating the oven.
Contributed by Chad Roberston, author of Tartine Bread.
Originally featured in Tartine