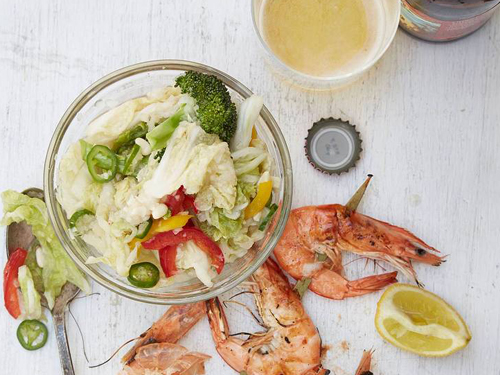 White Pear Kimchi
Vegan-friendly and very mild, as it has neither fish sauce nor chile pepper flakes. It is traditionally served only in summer. You can also serve right out of the container as a salad course.
Cabbage:
 1 large Napa cabbage (4 to 5 pounds)
6 quarts water
1 cup kosher salt
Paste:
3 cups water
½ cup sweet rice flour
1/3 cup sugar
Guts:
 1 cup chopped onions
1 Asian pear (about 10 ounces), peeled, cored, and diced
8 ounces daikon radish, grated (use a box grater)
1 4-ounce piece ginger, grated (use a Microplane)
¼ cup kosher salt
2 teaspoons ground coriander
1 ½ teaspoons ground fennel
1 small head broccoli, trimmed and cut into bite-sized florets
2 red bell peppers, cored, seeded, and cut into ribbons
2 yellow bell peppers, cored, seeded, and cut into ribbons
4 serrano or jalapeno peppers, thinly sliced
½ cup pine nuts
1. Slice the cabbage lengthwise into quarters. Cut out the core and discard it. Put the cabbage into a large container and add the water and salt. Let stand at room temperature for 2 hours; drain and rinse.
2. Coarsely chop the cabbage into approximately 2-inch strips. Tranfer to a large bowl.
3. To make the paste: Combine the water, rice flour, and sugar in a medium saucepan and bring to a simmer, stirring constantly until the mixture thickens, 1 to 2 minutes. Allow to cool while you make the guts.
4. To make the guts: Combine the onions, pear, daikon, ginger, garlic, salt, coriander, and ground fennel in a food processor and process to a course puree.
5. Fold the guts into the cooled paste. Add the broccoli, red and yellow peppers, Serrano peppers, and pine nuts.
6. Wearing clean latex gloves, mix the guts mixture thoroughly into the cabbage. Transfer to a gallon glass jar or airtight plastic container with a tight-fitting lid. Let stand at room temperature for 24 hours, then refigerate. The kimchi will be ready to eat in 4 or 5 days, and will keep for another 2 weeks.
Originally featured in The goop Cookbook Club: Smoke & Pickles