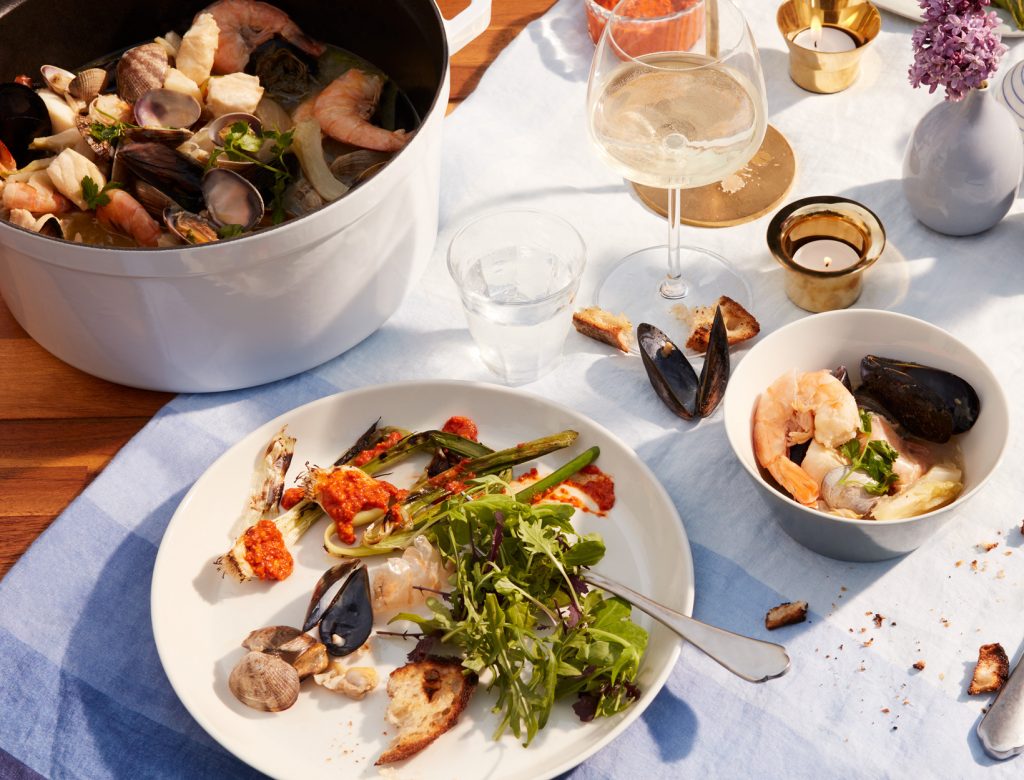 White Cioppino
This light, bright, fish stew is the perfect, easy (and impressive) dinner to whip up for a crowd. A riff on the red tomatoey San Francisco favorite, this stew uses white wine and fresh herbs to give it the springtime treatment. Caramelized fennel and shallots combined with wine, butter, and herbs make the broth good enough to have on its own, but you'll be happy with some crusty bread to mop up all that deliciousness.
for the stew:
2 tablespoons olive oil
4 cloves garlic, thinly sliced
3 shallots, minced
3 bulbs fennel, cut into ¼-inch wedges
1 cup clam juice
1 cup water
3 cups white wine
4 tablespoons butter
5 sprigs each parsley, tarragon, and chives, tied into a bouquet garni with kitchen twine
1 teaspoon salt
1 pound halibut, skinned and cubed
1 pound clams, washed
1 pound shrimp, peeled and deveined
1 pound mussels, washed
for the grilled bread:
1 baguette, sliced thick on the bias
3 tablespoons olive oil
to finish:
½ cup roughly chopped parsley
¼ cup roughly chopped chives
2 tablespoons roughly chopped tarragon
1 teaspoon lemon zest + extra lemon wedges for serving
pinch of flaky sea salt
1. Add the olive oil to a large heavy-bottomed pot over medium heat. Add the garlic, shallots, and fennel and cook until fragrant and translucent, stirring often.
2. Add the butter and the bouquet garni to the pot. Then add the clam juice, water, white wine, and salt. Stir until everything is well combined. Then bring to a boil (it should take 5 to 10 minutes).
3. Then add the shrimp, halibut, clams, and mussels into the pot and cover with lid. Cook until clams and mussels have opened up and halibut and shrimp are cooked through and opaque, about 10 to 12 minutes.
4. While the fish cooks, toast the baguette. Lightly coat each piece with a little olive oil and grill or broil until golden brown.
5. To finish the stew, top with the chopped parsley, tarragon, chives, lemon zest, and flaky sea salt. Serve each bowl with lemon wedges and bread for dipping.
Originally featured in The Spring-Bounty Dinner Party