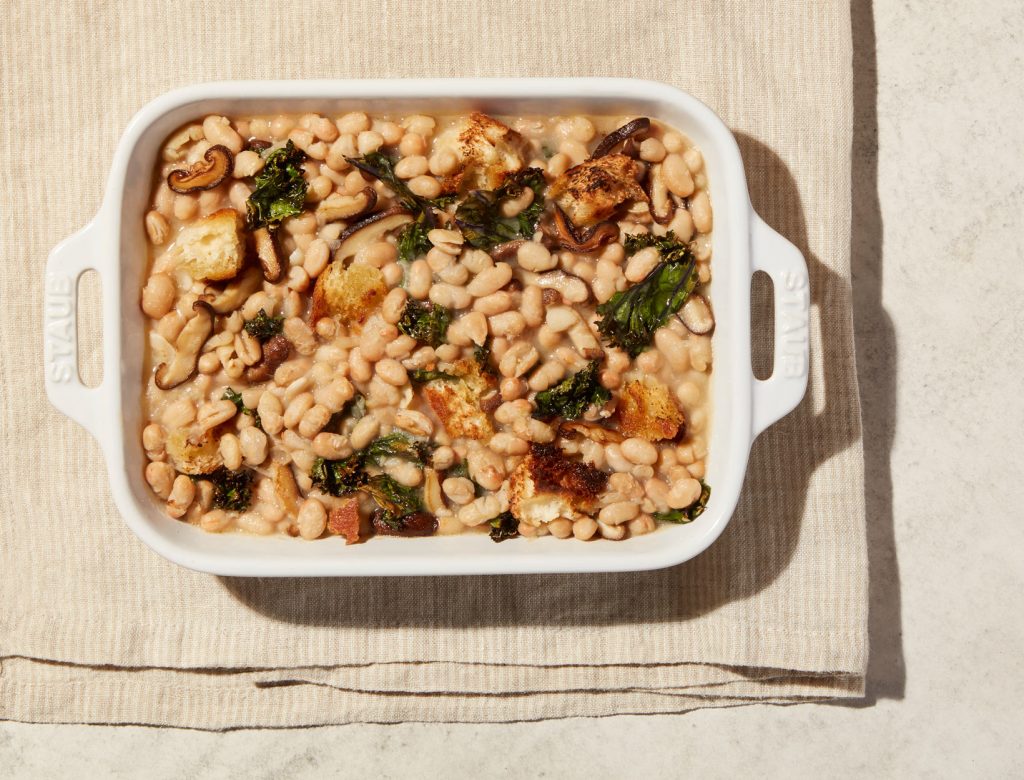 White Bean Cassoulet
This is a fantastic vegetarian version of the meat-laden original. The white beans provide that unctuous texture; the toasted bread gives a bit of crunch; caramelized mushrooms, shallots, and kale add umami; and the bright acidity of white wine balances everything beautifully.
½ pound shiitake mushrooms, thinly sliced
5 tablespoons olive oil
3 cloves garlic, thinly sliced
2 shallots, finely diced
2 tablespoons butter
2 tablespoons all-purpose flour
1½ cups mushroom broth
½ cup white wine
½ recipe Perfectly Cooked White Beans
½ cup reserved cooking liquid from the beans
½ bunch red kale, torn into bite-size pieces
½ baguette, torn into 1-inch pieces
1. Preheat oven to 375°F.
2. Heat 3 tablespoons of oil in a medium stockpot on medium high heat. Add garlic, shallots, and mushrooms, and sauté until tender.
3. Reduce heat to simmer and add flour and butter. Stir until well combined with mushroom mixture, then add the mushroom stock and white wine, stirring until everything is combined.
4. Bring stockpot back to medium-high heat and add the beans and bean liquid. Let the mixture reduce for about 5 to 8 minutes until it has thickened slightly.
5. Meanwhile in a medium-size saucepan, heat the remaining 2 tablespoons of olive oil over medium-high heat and add baguette pieces. Toss until baguette is coated in olive oil and lightly browned.
6. Once mushroom mixture has thickened, add torn pieces of kale and stir until everything is well combined.
7. Transfer the mushroom, white bean, and kale mixture to a medium-size casserole dish and add the torn pieces of baguette on top, poking some pieces of the baguette into the cassoulet to soak up the good stuff.
8. Bake in the oven for 20 to 25 minutes, watching carefully to make sure the baguette pieces don't burn. Let cool for 5 minutes before serving.
Originally featured in Make It Once, Use It Twice (or Thrice)