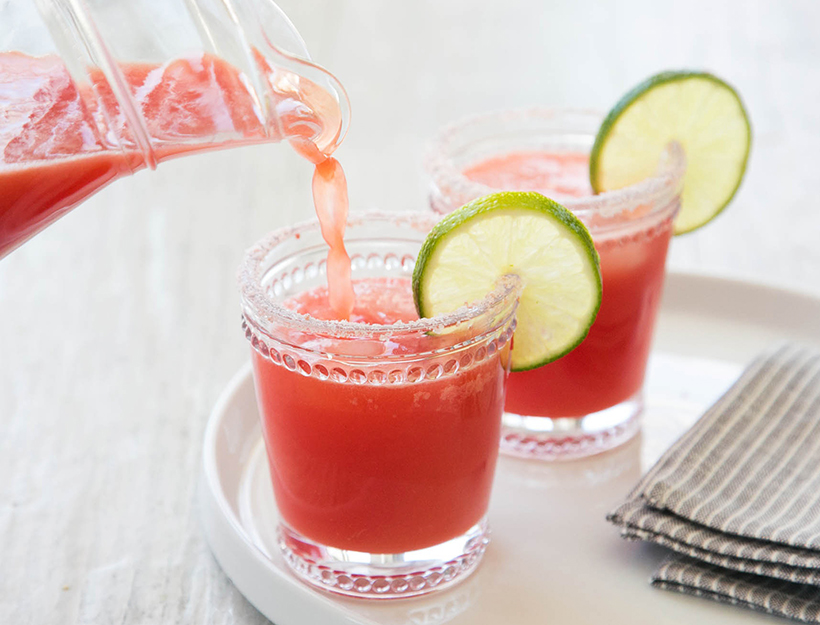 Watermelon Margarita
Perfect for warm summer nights, this watermelon margarita tastes like a deliciously boozy agua fresca. Make extra and store in the fridge for the next round.
¾ cup Silver Tequila
3 cups organic watermelon (seedless), chopped
¼ cup organic lime juice, freshly squeezed
¼ cup organic agave nectar
¼ cup hot water
salt and lime juice for rim
1. Muddle watermelon cubes by hand or use a blender and strain through a fine-mesh sieve over a tall pitcher.
2. Squeeze fresh organic lime juice and add tequila and homemade agave syrup, blending well.
3. Garnish glass rims by dipping in extra lime juice and rolling in coarse salt.
4. Add a thin slice or two of lime or a wedge of watermelon, pour over ice, and enjoy!
for agave syrup:
1. Combine equal parts of very hot water and agave and stir until dissolved.
Originally featured in Summer Go-To: Watermelon Margaritas & Fresh Salsa