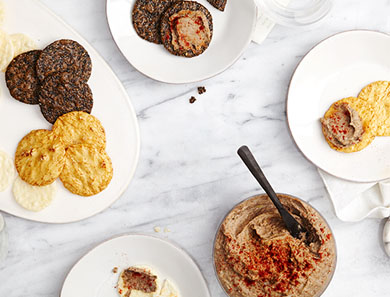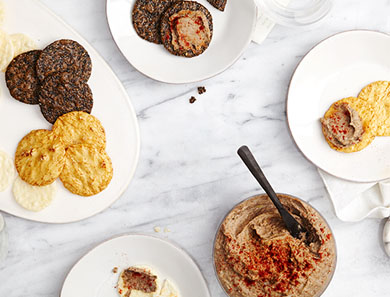 Creamy and rich, you'll want to serve this at cocktail parties as a delicious and warming spread for crackers and toast. Best of all, it's so easy to make, and yet such a crowd-pleaser.
1. In a medium frying pan, drizzle about 2 tablespoons of olive oil and place over medium heat. Add onions and the bay leaf, reduce heat to low and cook until soft and deeply caramelized, about 15 minutes, stirring every few minutes. Remove bay leaf and season the onions with salt and pepper to taste.
2. Meanwhile, toast walnuts. Place nuts on a baking sheet and into the oven at 400°F for about 5-8 minutes, shaking the sheet halfway through for even cooking. Remove from oven and let cool.
3. Place lentils, walnuts and onions in a blender with the tamari, lemon juice and about 2 tablespoons of olive oil. Blend until smooth and creamy. Transfer to a serving bowl and sprinkle with smoked pimentón to your liking.
Originally featured in A Warming Winter Detox