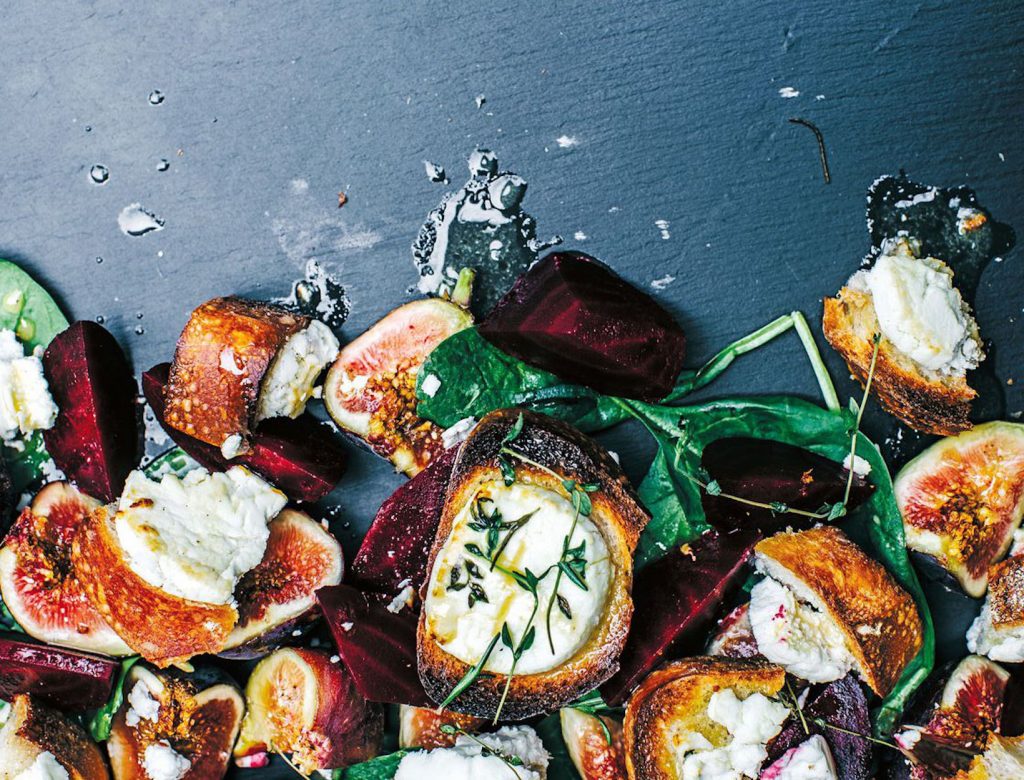 Warm Goat's Cheese Croutons with Roasted Beets, Figs, and Apple-Mustard Dressing
This salad made our cheesy crouton dreams come true. It's super delicious, and while it would be great at any meal, we think the sweet and savory flavor combination has brunch written all over it. McKinnon calls for mâche and watercress but notes that any tender green, like spinach or arugula, will do.
1. Preheat the oven to 400°F.
2. Spread the beets on a large baking tray, drizzle with 1 tablespoon of olive oil, season with salt and pepper, and roast for 30 to 35 minutes until tender.
3. Preheat the grill to high. Place the baguette slices on a baking tray, drizzle over 1 tablespoon of olive oil, and place under the hot grill for minutes, or until golden. Remove the croutons from the grill. Slice the goat's cheese into as many rounds as you have croutons. Place a slice of cheese on the ungrilled side of each crouton and top with a few thyme and rosemary leaves. Return to the grill and cook for 3 to 4 minutes, or until the goat's cheese is soft and golden.
4. To make the dressing, whisk together all the ingredients and season with salt and pepper to taste. Toss the salad leaves together with the chives. To serve, arrange the beet slices and figs on top of the leaves, drizzle over the apple-mustard dressing, and season with salt and pepper. Top with the goat's cheese croutons and the walnuts.
From Neighborhood by Hetty McKinnon © 2016 by Hetty McKinnon. Photography © 2016 by Luisa Brimble. Reprinted in arrangement with Roost Books, an imprint of Shambhala Publications, Inc. Boulder, Colorado.