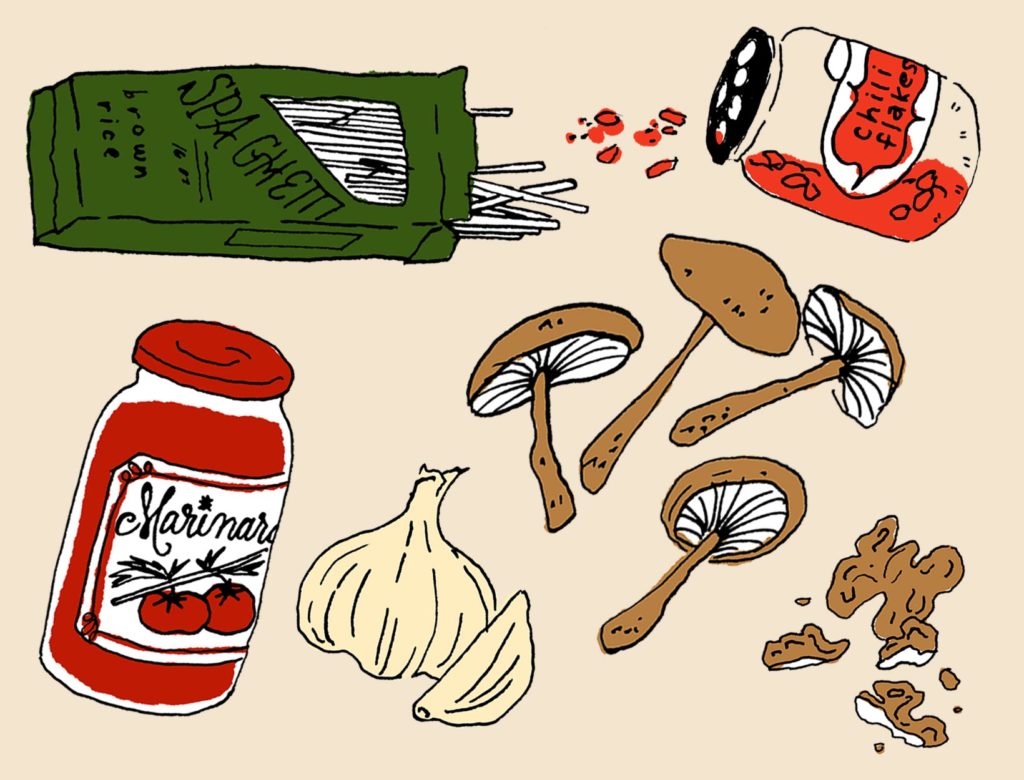 Walnut Mushroom Bolognese
You could welcome a skeptic into your home and serve them this vegan dinner. It's rich, filling, so comforting, and easy to make, too.
4 ounces raw walnuts
4 ounces cremini mushrooms
4 cloves garlic
¼ teaspoon fennel seeds
¼ teaspoon chili flakes
olive oil
1½ cups your favorite vegan marinara
8 ounces brown rice spaghetti
salt
1. Combine the first 5 ingredients in a food processor and pulse about 10 times, or until the mixture is combined and the texture is uniformly coarse. Heat a few generous glugs of olive oil in nonstick skillet over medium heat. Add the mushroom-walnut mixture to the pan and cook for 5 to 8 minutes, stirring occasionally. Once the mushrooms have released some of their liquid and the walnuts and garlic have become fragrant, add the marinara sauce to the pan and reduce the heat to low. Stir to combine everything well and let it bubble away while the pasta cooks.
2. Bring a large stockpot of water to a boil and add a generous pinch of salt. Cook your brown rice pasta 1 to 2 minutes less than the package says.
3. Drain and add the pasta to the walnut mushroom Bolognese, tossing well to help the sauce cling to the noodles. Taste, adjust for seasoning, and serve.
Originally featured in Reset with a 3-Day Plant-Based Meal Plan