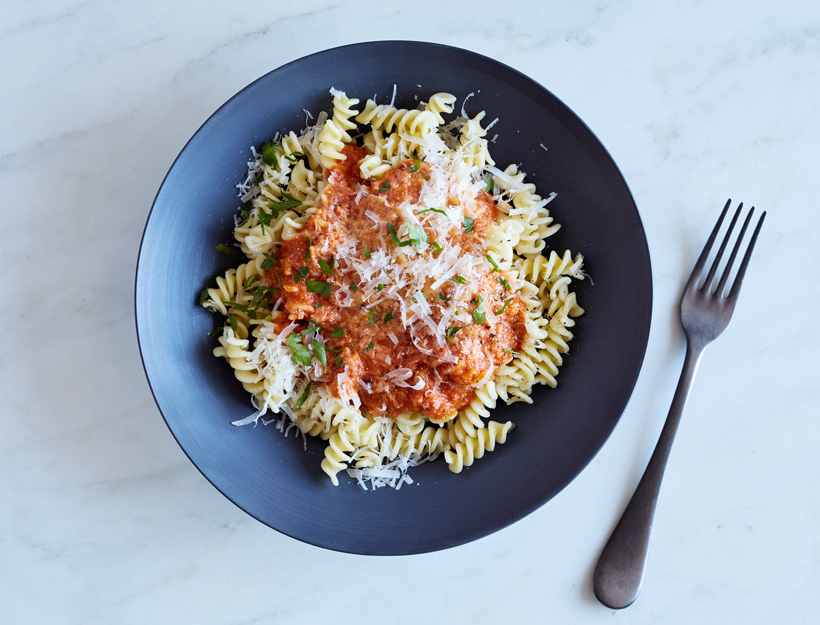 Slightly creamy, slightly spicy, and totally comforting, this classic Italian American sauce is always a crowd-pleaser.
1. Heat the butter and olive oil in a Dutch oven or large sauté pan over medium heat. Add the garlic and tomato paste and sauté for 30 seconds, or until the garlic is fragrant. Add the boxed or canned tomatoes, bring the mixture to a boil, reduce heat, and simmer gently for 10 minutes.
2. Add the vodka and simmer another 10 minutes.
3. Stir in the heavy cream and simmer gently for 10 more minutes (be sure not to boil the sauce at this point, as the cream might separate).
4. Add the sugar, taste for seasoning, and stir in 1 cup finely grated Parmesan cheese.
5. Serve with the cooked pasta of your choice and extra Parmesan cheese on the side.
Originally featured in Four Easy Pasta Sauces—Make Now, Freeze for Later