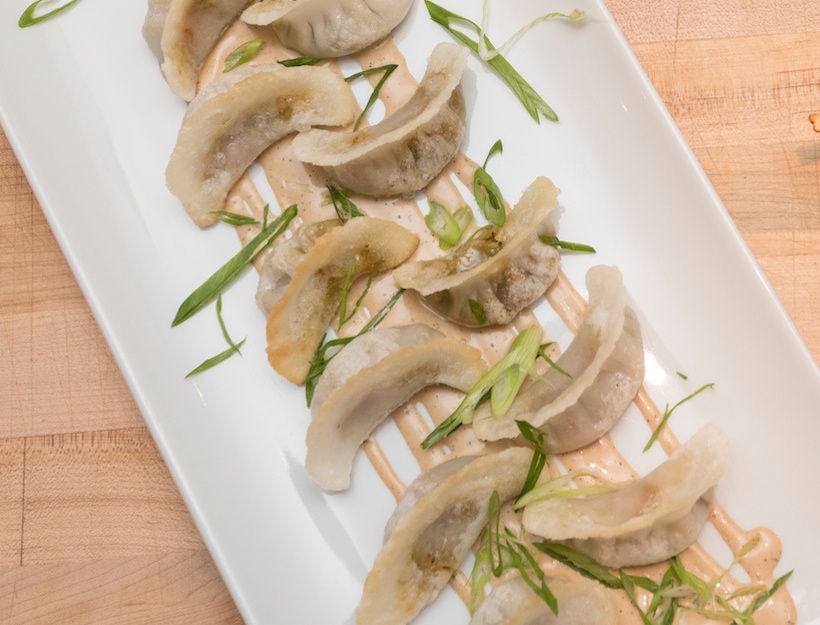 Our new favorite veggie dumplings! Steaming then frying these babies gives them a perfect texture.
1. To make the filling, blend English Peas in a food processor until you have the texture of tapenade. Set aside until the end.
2. Sauté mushrooms for 5 minutes, over medium-high heat. Add onions, garlic chives, ginger, and carrots, season with salt and sauté for another 3 minutes. Transfer to a sheet tray.
3. Sauté poblano peppers, red pepper, and broccoli together until tender, about 5 minutes. Season with salt and add to the sheet tray.
4. Toss sautéed vegetables together with tamari soy and cool completely. Give the cooked vegetables one more rough chop so they are very small and well combined. Mix with processed peas and check seasoning.
5. To make the dough, in a mixing bowl or Kitchen Aid combine wheat starch, tapioca starch, oil, and 2/3 cup of boiling water and work until smooth. The dough may need a small amount of extra water, add it one teaspoon at a time. If using a mixing bowl, combine with a spoon to avoid boiling water. Work the dough until it comes together and is smooth.
6. Cut the dough into 4 pieces and then the pieces into 4 more pieces. You should have quarter sized balls. Roll each ball into a flat disk 1/4 inch thick.
7. Lay each disk out and fill with 1 tablespoon of vegetable mix. Fold the dough in half around the filling and pinch closed.
8. Steam dumplings in a bamboo steamer and then transfer to an oiled non-stick sauté pan over medium-high heat. Brown for 3-4 minutes, until golden and bubbly on the bottom.
Originally featured in A Dinner Feast with Stephanie Izard