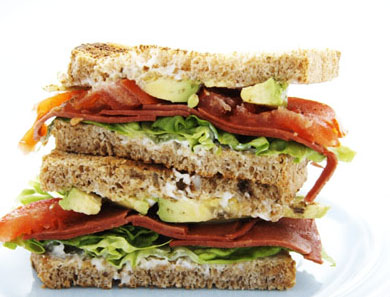 Veggie BLAT
This sandwich impresses even the most dedicated carnivores. Full of flavor and super-satisfying, this is a lunchtime favorite in my house.
1 tablespoon olive oil
8 slices vegetarian bacon (you can find good brands made with tempeh)
8 slices organic sprouted whole grain bread (like Ezekiel)
1/2 cup Vegenaise (or your favorite mayonnaise)
coarse salt
freshly ground black pepper
2 very ripe tomatoes, sliced
1 ripe avocado, sliced
1 head baby gem lettuce or 1 heart of romaine lettuce, leaves separated
1. Heat the oil in a large nonstick skillet over medium heat and cook the vegetarian bacon for a minute on each side, just enough to warm it through and get it a bit browned.
2. Remove from the skillet and cut each slice in half.
3. Spread each slice of bread with a tablespoon of Vegenaise or mayonnaise and sprinkle with coarse salt and pepper.
4. Layer the bacon, tomato, avocado and lettuce on 4 slices of the bread and then sandwich with the remaining 4.
5. Cut each sandwich in half and serve.
Originally featured in Vegan Lunch