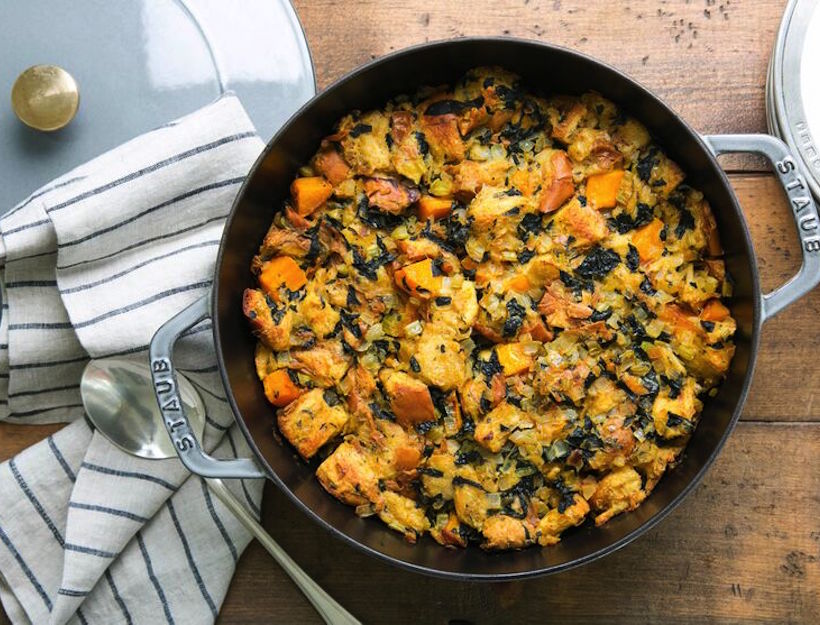 Even omnivores will happily chow down on this vegetarian stuffing, and it's filling enough to serve as a main course for the vegetarians at your Thanksgiving table.
1. Preheat the oven to 450°F.
2. Cut the challah into 1-inch pieces and leave out on a baking sheet to dry out while you prepare the other ingredients. You should have about 8 cups of cubed bread.
3. Peel the kabocha, scrape out the seeds, and cut into 1-inch pieces (you should have about 3 cups). Place on a baking sheet and toss with 2 tablespoons olive oil, salt, and pepper. Pop in the oven and roast for 20 minutes or until tender. Remove from the oven and turn the temperature down to 375°F.
4. Heat the remaining 2 tablespoons of olive oil and 2 tablespoons of butter in a 4-quart Dutch oven over medium heat. Add the celery and onion and cook 8 minutes, or until they start to soften and brown. Add the sage, thyme, rosemary, and kale and cook another 5 minutes.
5. Add the white wine, turn the heat up to high, and cook for another 3 to 5 minutes, or until the alcohol has cooked off and almost all of the liquid has evaporated.
6. Scrape the mixture into a large bowl and add the roasted kabocha, vegetable stock, egg, salt, and black pepper. Add the challah and toss to combine all the ingredients.
7. Wipe out the Dutch oven and grease lightly with cooking spray. Transfer the mixture to the greased Dutch oven, pressing down slightly to compress a bit.
8. Melt remaining 2 tablespoons butter in a small saucepan and pour evenly over the stuffing. Pop in the oven, uncovered, and bake for 30 minutes.
Originally featured in Easy Veggie Thanksgiving Sides