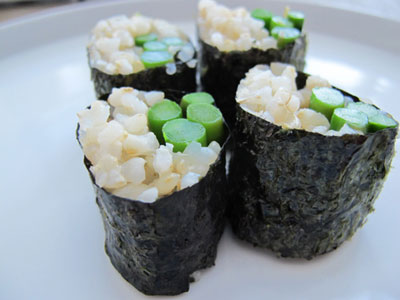 Vegetable Sushi
A great way to use leftover cooked rice, sneak some extra veggies into your kid's diet, and get rid of those lingering soy sauce packages.
2 sheets of toasted nori seaweed
½ cup of cooked short-grain brown rice
1/2 teaspoon agave nectar
1/2 teaspoon rice wine vinegar
6 spears of cooked and cooled asparagus (and/or strips of cucumber, carrot, cooked mushrooms, etc.)
1. Lay a piece of plastic wrap down on your work surface and put one sheet nori on top.
2. Mix the rice with the agave and vinegar and put half of the mixture on the nori in an even line about an inch from the bottom.
3. Evenly lay 3 spears of asparagus (or whatever vegetable you're using) on the rice.
4. Starting from the bottom, roll the nori around the rice, using the plastic wrap to help you get the roll tight.
5. Using a very sharp knife, cut the sushi roll into bite-sized pieces.
Originally featured in Lunch Box