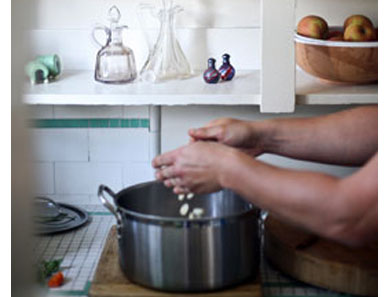 Amy Pennington runs an urban gardening business called GoGo Green that installs gardens for city dwellers. Her cookbook incorporates many tips on how to grow your own kitchen garden and teaches a kitchen economy for today's urbanite – from how to stock the pantry, to what to plant when, to how to can and preserve a variety of foods for the winter months.
Cover the bottom of a large stockpot with olive oil and heat over medium-high. Add the carrot, onion, celery, and garlic. The trick here is to fight the urge to stir continuously. Instead, let the vegetables sit on the heat and caramelize, about 10 minutes. Splash vermouth in the pan, stirring to deglaze and scraping up all the brown bits from the bottom of the stockpot. Cover the vegetables with 2 inches of water. Add the bay leaf, herb stalks, and the peppercorns and bring the mixture to a boil. Reduce the heat to low and cover, simmering for an hour. Set a fine-mesh strainer over a large mixing bowl and drain the stock from the solids. Compost solids. Put the stock in the fridge until cool. Once cooled, use within three days or store in plastic containers in the freezer for up to four months.
Pantry Note: All frozen stocks follow the same rules. Cover the stock's surface with a layer of plastic wrap before freezing, and store for up to four months.
Originally featured in Urban Pantry: A Canning Guide