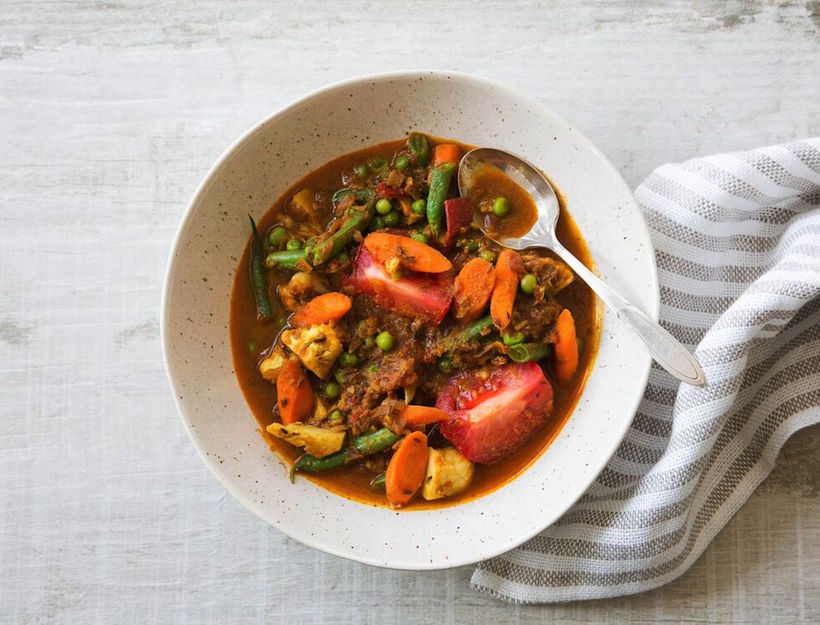 The spices in this vegetable curry lend incredible flavor, and it comes together in about 30 minutes. Serve over rice or with naan to soak up the juices.
1. Blanch carrot, green beans, peas, and cauliflower in salted water until just tender. Refresh in ice water and set aside.
2. Meanwhile, heat oil and cumin seeds in a sauté pan over medium heat and cook for one minute.
3. Add chopped ginger and garlic and sauté for one more minute.
4. Add chopped onion and continue cooking five minutes, or until tender and starting to brown.
5. Add puréed tomato and cook over low heat until all liquid has evaporated, about one minute.
6. Add the spices, vegetables, quartered tomato, and water, and cook over medium-heat three minutes, or until everything is fragrant and well combined.
7. Adjust seasoning to taste and finish with a little ghee, if desired.
Originally featured in Ayurveda & How To Eat For Your Dosha