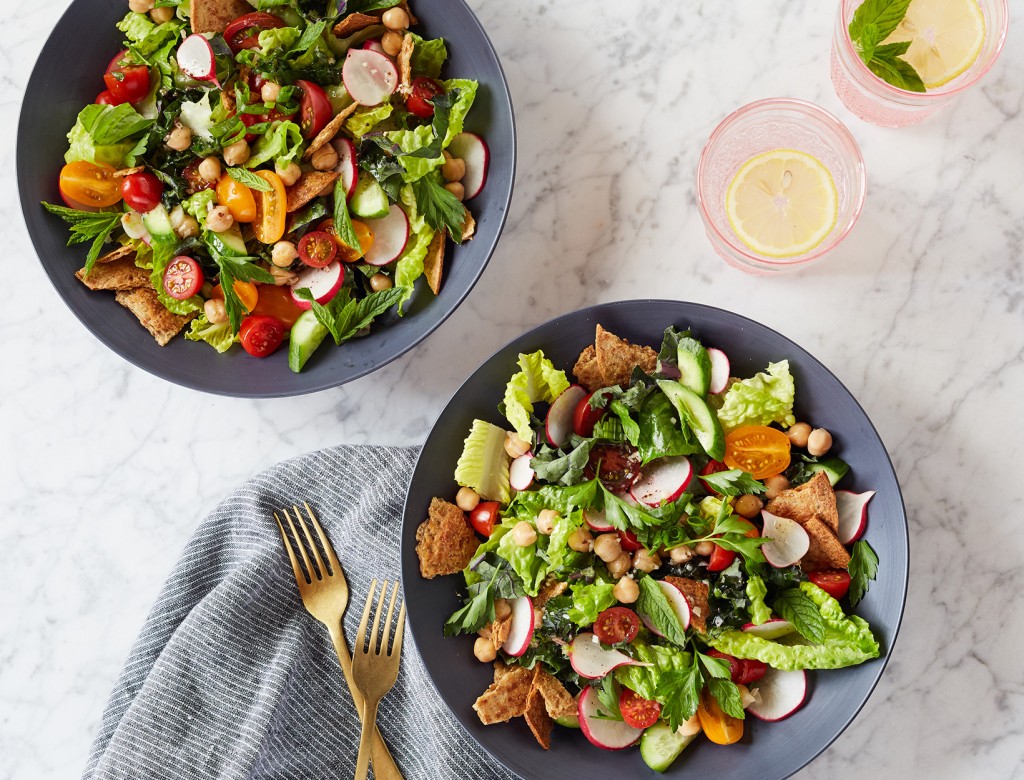 Vegan Fattoush
Middle Eastern food is having a moment right now, and we're happily hopping on the bandwagon with this easy vegan fattoush. It makes a perfect packable work lunch or a light dinner.
for the salad:
1 head or 2 cups chopped romaine
½ bunch or 1 cup chopped kale
⅔ cup chopped Persian or English cucumbers
2 scallions, thinly sliced
3 radishes, thinly sliced
½ cup cherry tomatoes, halved
½ cup cooked chickpeas
10 mint leaves, torn
about 2 tablespoons torn parsley
for the dressing:
½ clove garlic, grated
juice of ½ lemon
⅓ cup extra virgin olive oil
salt, pepper, and sumac
for the za'atar flatbread:
2 spelt flatbreads
1 tablespoon extra virgin olive oil
1½ teaspoons za'atar
flaky salt for finishing
1. Preheat your oven to 425°F.
2. Combine all of the salad ingredients in a large bowl.
3. To make the dressing, whisk together the garlic, lemon juice, and olive oil, then season to taste with salt, pepper, and sumac. Set aside.
4. Brush 1 side of each of the flatbreads with olive oil and season with the za'atar and flaky salt. Place on a baking sheet and bake for 5 minutes, or until browned and crispy like a cracker. Use your hands to roughly break them into bite-size pieces.
5. Toss the salad with the dressing; season to taste with more salt, pepper, and sumac as needed; and top with crushed flatbread.
Originally featured in #MeatlessMonday: Vegan Fattoush