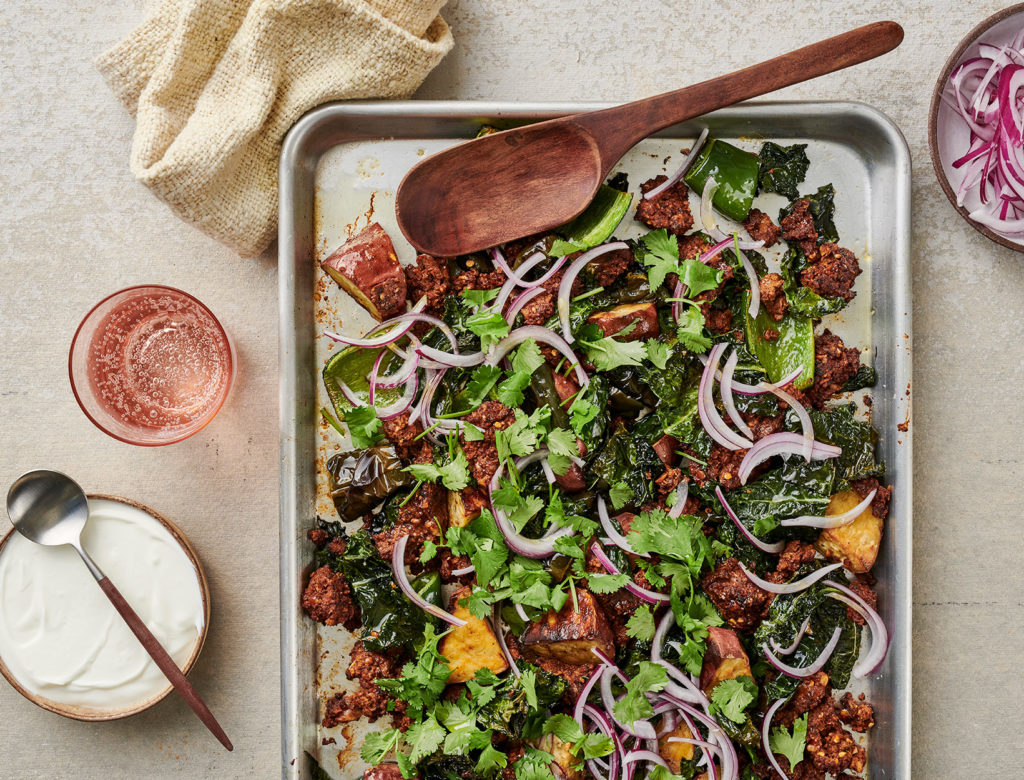 Sweet Potato, Kale, and Vegan Chorizo Sheet Pan Dinner
We made the one-pot rules so we can stretch them, right? While we've called this a one-pot meal, you do need to use a food processor to make the vegan chorizo. You could use a store-bought plant-based chorizo, which would eliminate that step/dirty dish. But our walnut-mushroom chorizo tastes amazing, and it's more wholesome. Overall, this is a great addition to the weeknight dinner routine because it's so customizable—it would work with russet potatoes and bell peppers in a pinch.
2 small sweet potatoes, peeled and cut into medium-size chunks
2 poblano peppers, seeds and ribs removed, cut into strips
olive oil
kosher salt
1 bunch black kale, ribs removed and roughly chopped
For the vegan chorizo:
8 ounces cremini mushrooms, halved
1 cup raw walnuts
6 cloves garlic
2 tablespoons smoked paprika
1 tablespoon fresh thyme leaves
1 tablespoon cumin
2 teaspoons salt
½ teaspoon chili flakes
2 tablespoons extra virgin olive oil
1½ tablespoons sherry vinegar
To garnish:
½ small red onion, thinly sliced
½ cup roughly chopped cilantro
½ cup Greek yogurt
1. Preheat the oven to 450℉. In a large bowl, toss the sweet potatoes and poblanos with some of the olive oil and a generous pinch of the kosher salt. Spread the vegetables evenly on a sheet pan. (Set the bowl aside to use later.) Bake, rotating the pan once halfway through, until tender and beginning to brown, about 35 to 40 minutes.
2. Meanwhile, make the vegan chorizo. Add the first 8 ingredients for the chorizo to a food processor and pulse several times, breaking the ingredients down into similarly sized pieces. Drizzle in the 2 tablespoons extra virgin olive oil and the vinegar and pulse to combine; take care not to make too fine a paste.
3. In the reserved large bowl, toss the kale with little bit of olive oil and a pinch of the kosher salt.
4. When the vegetables are cooked, crumble the vegan chorizo over the top, followed by the prepared kale. Roast for another 15 minutes.
5. To serve, sprinkle the onion and cilantro over top and garnish with dollops of the yogurt.
Originally featured in Vegetarian-Friendly One-Pot Meals