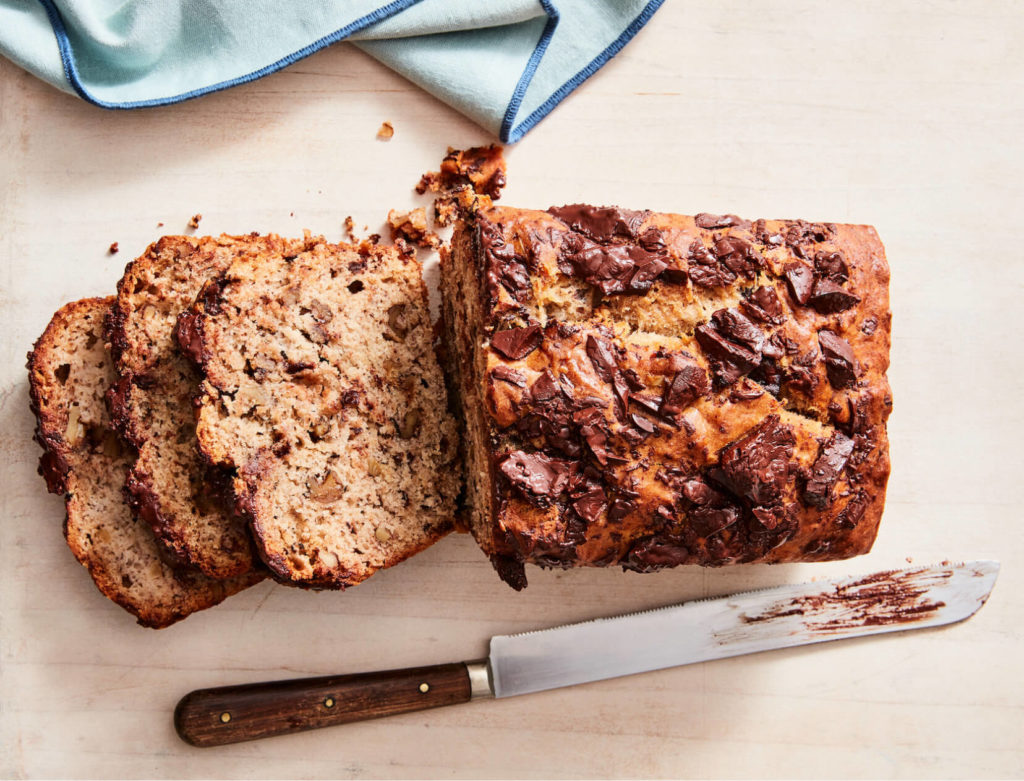 "This was the first vegan item in our house that was unanimously approved. Full disclosure: they did not, still do not, know it is vegan. Chopping a chunk of chocolate is fancier; using chocolate chips is easier. Your choice." —Jessica Seinfeld
1. Heat the oven to 350°F. Spray an 8×4-inch loaf pan with cooking spray. Line with parchment paper, leaving an overhang on the 2 long sides (for lifting out the baked bread).
2. Spread the walnuts on a sheet pan and bake for about 10 minutes, or until fragrant and crisp. Let them cool, then coarsely chop.
3. In a large bowl, whisk together the bananas, sugar, oil, and vanilla. Add the flour, baking powder, baking soda, salt, and cinnamon and stir to combine (the batter will be thick). Fold in the chocolate and walnuts.
4. Scrape the batter into the prepared pan and smooth the top. Sprinkle the top with some more shards of chocolate.
5. Bake for 57 to 60 minutes, until a toothpick inserted into the center comes out with a few moist crumbs attached. Let cool on a wire cooling rack for 20 minutes before unmolding. Let cool completely before slicing.
Originally featured in 3 Vegan Recipes and Late-Night Food Memories from Jessica Seinfeld