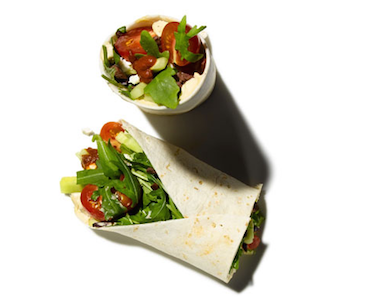 Unwrapped Wrap
Packing everything separately and assembling just before eating ensures a non-soggy, fresh wrap. Here's a healthy, veggie combo.
1 large flour tortilla, piadina or flatbread
3 1/2 ounces of your favorite prepared hummus (Fan Amvrosia is my favorite brand)
2 ounces crumbled feta cheese
2 tablespoons pitted, chopped black olives
small handful cherry tomatoes, halved
1/2 cucumber, peeled, seeded and cut into matchsticks
1 small handful rocket, washed and wrapped with a damp paper towel
a bit of harissa paste, Cholula sauce, or another hot element like chopped peppadew peppers (not a bad idea to keep a bottle of hot sauce in your drawer at work)
1. Pack everything separately.
2. When you're ready to eat, simply spread the tortilla with the hummus, scatter over the cheese and vegetables and roll or fold together.
This was originally published in GQ.