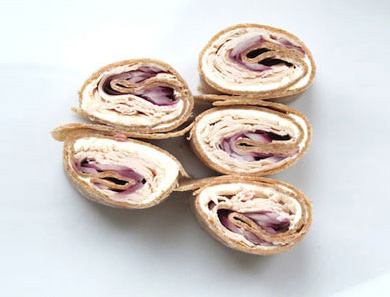 Turkey Wrap Bites
By simply cutting the wrap into bite-sized pieces, you can add a little excitement to something ordinary. Great for kids lunches.
1 large whole wheat flour tortilla
2 tablespoons cream cheese
2 or 3 slices roasted turkey
a few thin slices of red onion
1. Lay the tortilla on your work surface and spread evenly with the cream cheese.
2. Shingle the turkey slices and scatter over the onion.
3. Roll tightly and cut into small rounds.
Originally featured in Lunch Box