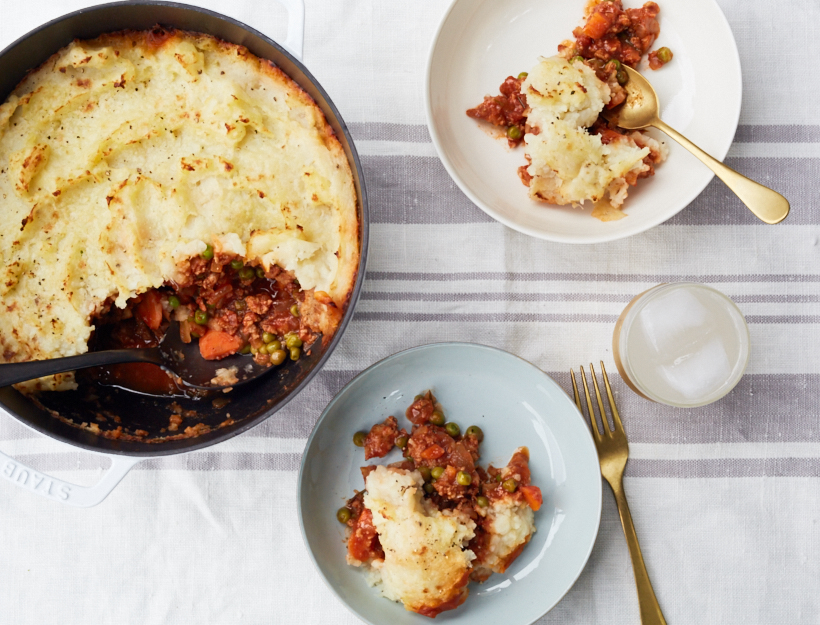 This shepherd's pie is not only gluten- and dairy-free; it's also way healthier than the original. We swapped in lean ground turkey for the classic lamb or beef and reduced the starch by mixing half a head of vitamin-rich cauliflower into the potato topping.
1. Preheat the oven to 375°F.
2. Heat the largest sauté pan you have over high heat. When the pan is hot, add 1 tablespoon olive oil and the ground turkey and season generously with salt and pepper. Sauté until very well browned, 5 to 7 minutes.
3. Meanwhile, heat the remaining 2 tablespoons of olive oil in a medium Dutch oven over medium-low heat. Add the onion, carrot, garlic and rosemary and cook for 5 to 7 minutes, or until the onion is translucent and the veggies are just starting to brown.
4. Add the tomato paste and cook for 2 to 3 minutes, stirring often and being careful not to let it brown.
5. Add the chicken stock to the pan with the turkey to deglaze, then transfer everything to the Dutch oven along with the Worcestershire sauce.
6. Bring the mixture to a boil, then reduce the heat and simmer gently for 25 minutes, stirring occasionally.
7. While the meat sauce simmers, put the diced potatoes in a small to medium saucepan and cover with cold water by at least 3 inches. Add a very generous pinch of salt and bring the mixture to a boil. Once it reaches a boil, reduce to a steady simmer and set the timer for 6 minutes. When the timer goes off, add the cauliflower, bring the mixture back up to a boil, reduce to a simmer again, and cook for another 6 minutes.
8. Drain the mixture, return to the saucepan, and cook over low heat for 1 minute to cook off any residual water. Turn off the heat and mash the mixture very well with a potato masher. Add 2 tablespoons of olive oil and season to taste with salt and pepper.
9. When the meat sauce has reduced for 25 minutes, remove the rosemary sprigs, add the frozen peas, and season to taste with salt and pepper.
10. Transfer to a 2- or 3-quart baking dish (or leave in the Dutch oven) and spread the potato-cauliflower mixture evenly over the top. Drizzle with a little extra olive oil and bake in the oven for 20 to 25 minutes, or until the filling is starting to bubble. Turn on the broiler and cook for 3 to 5 minutes, just until the topping starts to brown.