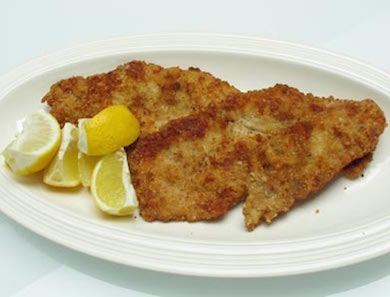 A wholly Israeli dish, we sometimes skip the flour to make this delicious comfort food kosher for Passover. Kids love this either way.
1. If the turkey slices are not thin enough, flatten them between 2 pieces of greaseproof paper. Put a board on top and hammer it.
2. Season the slices with salt and pepper.
3. Dip in flour, then in the beaten eggs, and finally dredge in the matzo meal. Fry in sizzling medium hot oil, about 1 cm (1/2 inch) deep, for about 4 – 5 minutes on either side, until lightly browned. Drain on kitchen paper and serve with lemon quarters.
Originally featured in Kosher For Passover