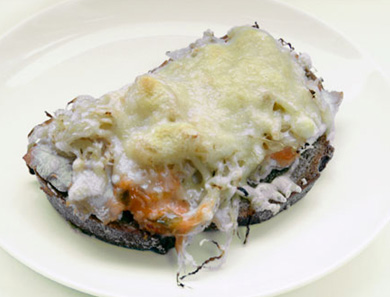 Turkey Reuben
Not your grandpa's reuben… substitute what would normally be pastrami with leftover turkey and you have a heavenly slice of old New York.
for each sandwich:
1 slice rye bread
leftover Thanksgiving turkey, sliced as thinly as possible (about 3 ounces)
about 1-2 tablespoons Easy New York Style Russian Dressing (below)
about 2 tablespoons high quality sauerkraut
a couple of thin slices of Swiss cheese (a good Emmental makes a big difference)
new york style russian dressing (makes 3/4 cup):
½ cup + 2 tablespoons Veganaise (or your favorite mayonnaise)
1 tablespoons + 1 teaspoon ketchup
1 tablespoons + 1 teaspoon pickle relish
for the sandwich:
1. Preheat the broiler.
2. Pile a bunch of turkey on the rye bread. Drizzle with as much dressing as your dare. Cover with a layer of sauerkraut and then cover with a layer of Swiss cheese. Broil until cheese is melted and a bit browned.
for the dressing:
1. Mix everything together.
Originally featured in Leftover Turkey Revamped