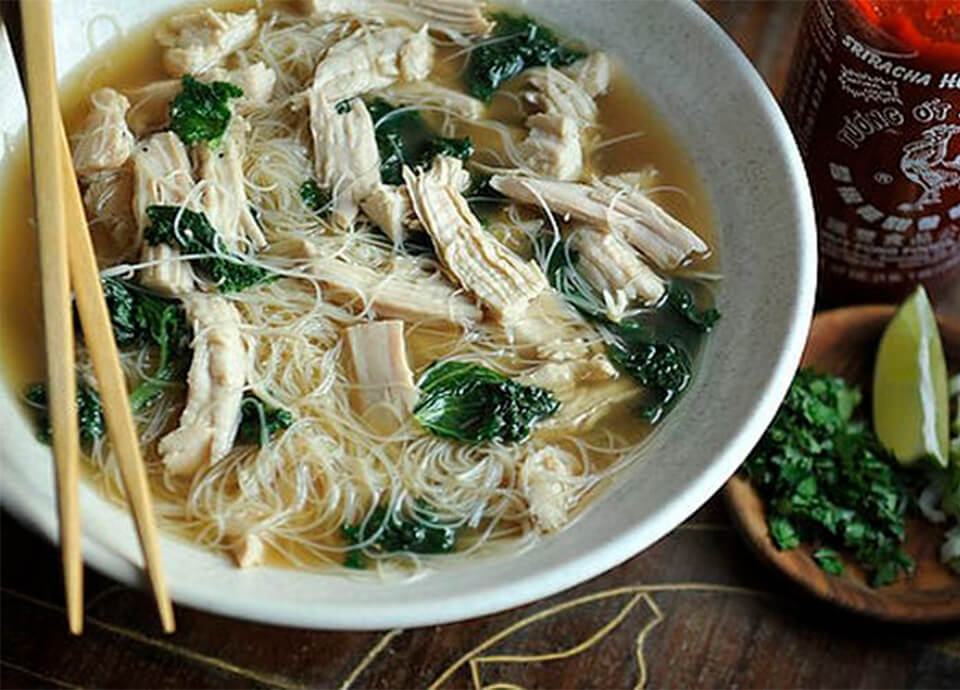 Turkey Pho
This is a refreshing way to use up any leftover turkey you might have from roasting a bird. Chicken works great as well.
spices:
2 tablespoons coriander seeds
4 whole cloves
4 whole pods star anise
1 stick cinnamon
for the turkey pho:
1 quart homemade turkey stock (or homemade or store-bought chicken stock)
1 bunch scallions (green tops only), chopped
1 (3-inch) chunk ginger, sliced and smashed with the side of a knife
1 teaspoon light brown sugar, or more to taste
1 tablespoon fish sauce, or more to taste
1 to 2 cups kale, chopped into bite-size pieces
½ pound leftover turkey breast, shredded
1 bunch (about 2 ounces) cellophane or bean thread noodles (or enough flat dried rice noodles to serve 2)
1½ tablespoons chopped cilantro, for garnish (optional)
1½ tablespoons chopped scallions (white parts only), for garnish (optional)
sriracha
½ lime, cut into wedges
1. Heat a cast-iron skillet or frying pan over medium heat. Add the spices and toast until fragrant, 3 to 4 minutes. Immediately spoon the spices into a bowl to avoid burning them.
2. Add the toasted spices, stock, scallions, ginger, brown sugar, and fish sauce to a large pot and bring to a boil over high heat.
3. Reduce the heat to medium-low and let simmer for 20 minutes, skimming the surface frequently.
4. Taste the broth and add more sugar or fish sauce if needed. Strain the broth and discard the solids. Add the kale and cook for 1 to 2 more minutes. Remove from heat.
5. Add the turkey and noodles. Allow to sit for a few minutes while the noodles soften.
6. Ladle the broth into 2 bowls. Divide the kale, turkey, and noodles evenly between the bowls.
7. Sprinkle on the garnishes and add sriracha to taste. Squeeze lime juice to taste before eating.
Originally featured in The Thanksgiving Lowdown