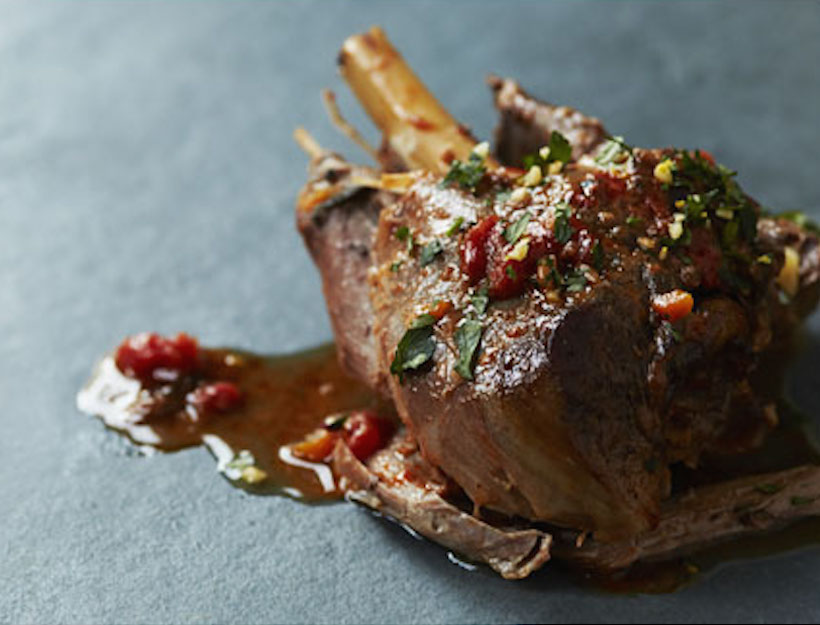 Turkey Osso Bucco
Braising turkey in this osso buco style gives it that red meat, falling-off-the-bone tenderness. This is a great way to change up your usual holiday turkey offering.
4 turkey thighs or legs (bony ends trimmed by an inch or so)
1 small carrot, chopped
1 small onion, chopped
1 celery stalk, chopped
1 sprig fresh rosemary
2 sprigs fresh thyme
1 bay leaf
1 tablespoon tomato paste
1 small can peeled whole tomatoes
2 cups turkey or chicken stock
2 cups dry white wine
1/2 cup all-purpose flour, for dredging
olive oil
sea salt
freshly ground pepper
gremolata
¼ cup chopped fresh flat-leaf parsley
¼ cup toasted pine nuts
1 clove garlic, minced
zest of 1 lemon
pinch of sea salt
pinch of freshly ground black pepper
1. Preheat oven to 375°F degrees.
2. Season thighs with salt and pepper. Dredge in flour to coat.
3. In a Dutch oven or heavy-bottomed pan, heat olive oil over high heat until smoking. Place thighs in pan and cook until brown all over (about 5 minutes on each side). Transfer to a plate and set aside.
4. Reduce heat to medium and add carrot, onion and celery and a pinch of salt and pepper. Cook until vegetables are soft and golden brown, about 7 minutes. Add rosemary, thyme, bay leaf and tomato paste and cook for about 30 more seconds, to bring out the aromas. Add the tomatoes, chicken stock and wine and bring to a boil.
5. Place turkey back into pan and make sure they are submerged at least halfway (if not, add more stock). Cover the pan with tight-fitting lid or aluminum foil. Place in oven for about 2 hours until meat is nearly falling off the bone. Remove from the oven and let stand 10 minutes.
6. Combine all gremolata ingredients and sprinkle over osso buco before serving.
Originally featured in A Holiday Feast