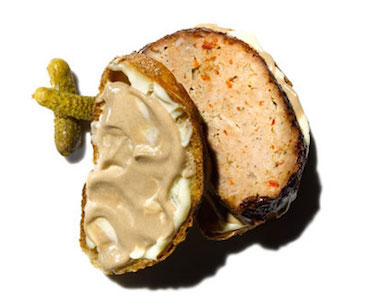 Make this for dinner and serve it with a salad and garlic bread, then bring it to work on bread the next day for a hearty sandwich.
1. Preheat your oven to 180ºC.
2. Heat the olive oil in a medium sauté pan over medium heat and add the onion, bell pepper and garlic.  Cook, stirring occasionally for 10 minutes or until beginning to soften and just pick up color.  Let the mixture cool.
3. Combine the cooked vegetables in a large mixing bowl with the turkey, parsley, egg, breadcrumbs, tomato puree, steak sauce, garlic salt, onion powder, salt and pepper.  On an oiled baking sheet, form the mixture into a loaf roughly 18cm long, 10cm across and 5cm high.  Whisk together the topping ingredients in a bowl and then evenly spread across the top of the meatloaf.  Bake for about 45 minutes or until the meatloaf is firm to the touch and a thermometer registers 75ºC.
Originally published on GQ.