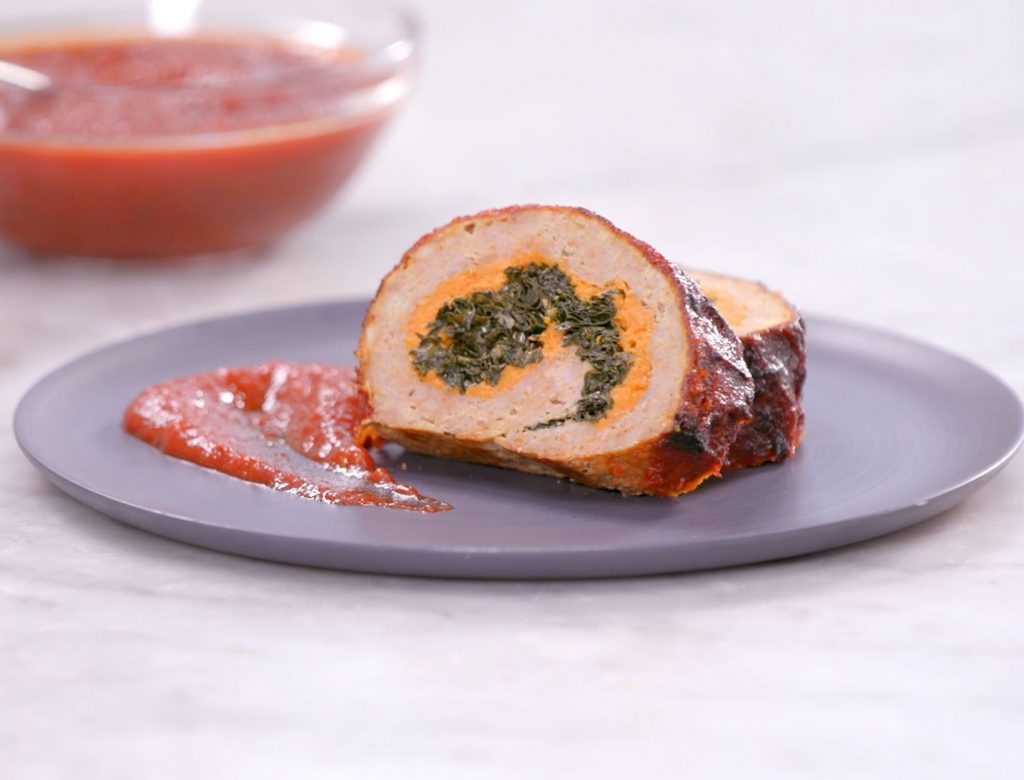 Turkey Meatloaf Roulade with Chipotle Glaze
This meatloaf roulade has plenty of good-for-you kale and sweet potatoes under all that sweet, tangy, spicy glaze—you'll be glad to have extra for drizzling and dipping.
1. First make the meatloaf: Combine the turkey, egg, bread crumbs, and spices. Set aside. 
2. Combine the sweet potato ingredients and mash until smooth. Set aside.
3. Sauté the kale and garlic over medium-high heat, just until tender. Set aside to cool.
4. Line a sheet pan with 2 sheets of parchment paper. Add the turkey mixture, forming it into a large rectangle about ½ inch thick. Make sure it's smooth and flat. Then spread the cooled sweet-potato mixture over the top, leaving a small border along one of the longer edges. Then scatter the kale over the sweet potato mash. Using the parchment paper, start rolling the meatloaf from the long sides, almost like a jelly roll, peeling the parchment back as you go. Once the roll is completed, you should be able to slip the first layer of parchment off right onto the one underneath it.
5. Bake for 45 minutes at 400°F.
6. While the meatloaf bakes, make the glaze: Heat the oil over medium heat. Add the garlic, tomato paste, chipotles, honey, and vinegar, and stir well. Let simmer for about 25 minutes until the glaze has thickened and the sharpness of the vinegar has cooked off a bit. Remove from the heat and set aside. 
7. Take the meatloaf out and slather it with the chipotle glaze (picking around the whole chipotles—they're there only to infuse the glaze). Put the meatloaf back in the oven for 15 minutes to caramelize. 
8. Slice and serve with extra chipotle glaze on the side.
Originally featured in Real Men Eat goop: The Meatloaf