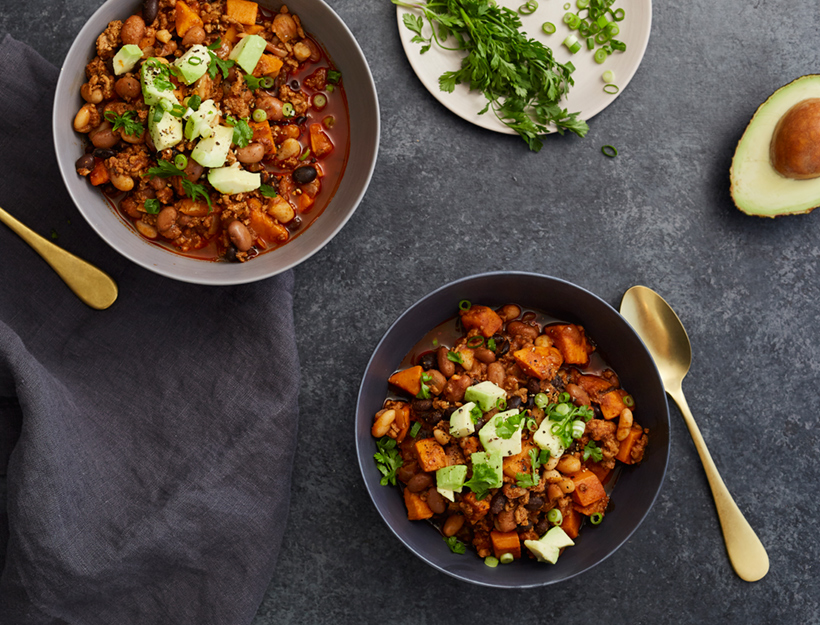 Turkey and Sweet Potato Chili
Considering how easy it is, this recipe really delivers on flavor. We would make this even if we weren't detoxing! It may seem like a lot of spice, but in the absence of fresh peppers and tomatoes, this soffritto gives the chili its depth.
1. In a heavy bottom pan, heat the olive oil over medium heat.
2. Add the onion, garlic, serrano chili, chili powder, cumin, paprika, cayenne, and salt. Cook down until caramelized and fragrant, about 15-20 minutes.
3. Add the ground turkey and cook until crumbled and combined with the onions. Add the sweet potatoes and chicken stock (or bone broth) and bring to a simmer, then cover and let cook for another 20 minutes.
4. After the sweet potatoes have cooked, add the beans, stir to combine and cook for another 20 minutes uncovered.
5. Taste for salt and spice, then garnish with avocado, cilantro, and scallions.
Originally featured in The Annual goop Detox 2017