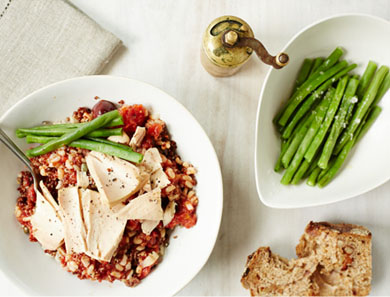 This bowl is a perfect cross between a puttanesca and a niçoise.
1. Coat a large frying pan with olive oil and add the garlic and red chili flakes. Cook for a minute until soft and fragrant, then add the anchovies and stir until they start to melt. Add the olives, crushing them gently with the back of a wooden spoon. Add the canned tomatoes and bring the heat down to a simmer. Cook for about 20 minutes.
2. Prepare an ice bath by filling a large bowl with equal parts ice and water. Bring a medium pot of water to a boil. Add a large pinch of salt and the French beans. Cook for about 3 minutes. Drain and place in the ice bath for about a minute. Drain and set aside.
3. Place equal amounts quinoa and brown rice into two serving bowls or sealable food containers. Top with a large dollop of tomato sauce. Flake three to four large pieces of tuna into each bowl. Divide French beans into each bowl. Season with salt and pepper to taste and a drizzle of olive oil on top if desired.
Originally featured in Lunch Bowls