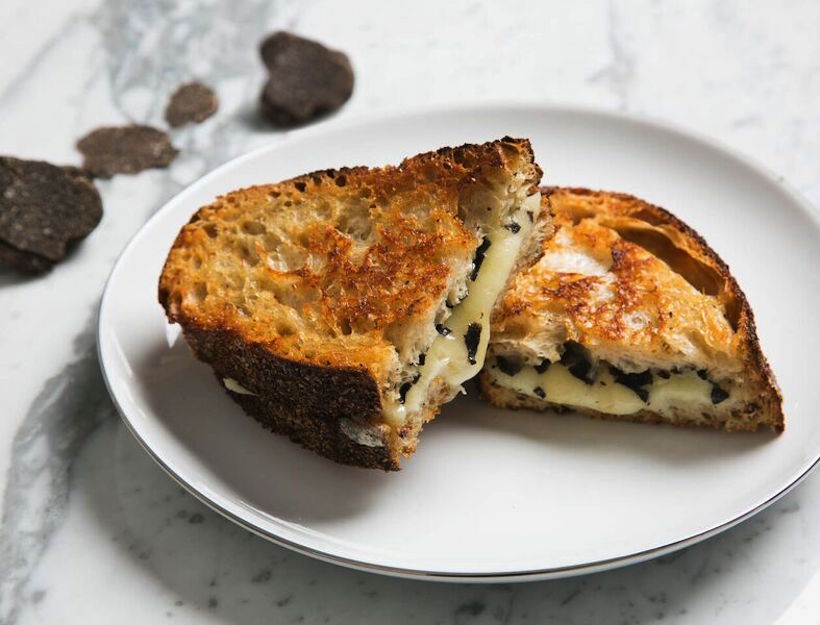 The perfect indulgence for an anti–New Year's Eve dinner, this grilled cheese pairs perfectly with a glass of champagne and a good movie. If a fresh truffle isn't in the budget or you can't find one, these grilled cheese sandwiches are still divine with a little white truffle oil instead.
1. Sprinkle half the grated cheese over 1 piece of bread, use a mandoline or truffle peeler to shave some fresh truffle over it, then top with remaining cheese. Sprinkle with a little salt, and place the second piece of bread on top.
2. Heat a medium sauté pan over medium-high heat, and spread one tablespoon of butter on the outside of 1 piece of the bread. Place the sandwich, buttered-bread side down, in the pan and cook until golden brown (about 3 minutes).
3. Spread the second piece of bread with the remaining tablespoon of butter before flipping the sandwich over. Cook on the second side until the bread is crispy and browned and the cheese is melted.
4. Serve immediately.
Originally featured in The Anti-New Year's Itinerary