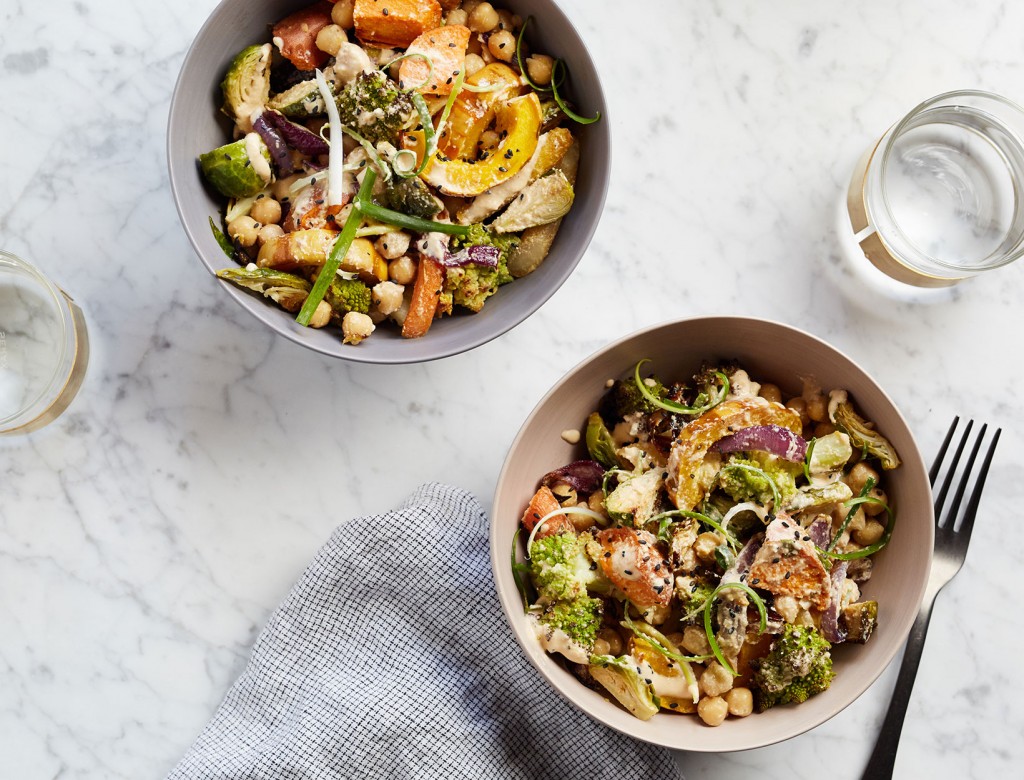 Tossed Peanut-y Roasted Vegetable Bowls
This bowl, packed with tons of veggies plus protein from the chickpeas, is easy, filling, and good for you—that's hard to beat.
3 cups assorted winter vegetables, such as Brussels sprouts, Delicata squash, rainbow carrots, yams, celery root, red onion, and romanesco or cauliflower, cut into bite-size pieces
olive oil
fine sea salt
1 can chickpeas, rinsed and drained
1 cup peanut sauce
3 scallions, sliced thin on the bias
2 tablespoons black sesame seeds
1. Preheat the oven to 425°F and line a baking sheet with parchment paper.
2. Place all the cut vegetables in a large bowl and toss with a pinch of salt and oil to coat lightly. Transfer the vegetables to the prepared baking sheet and place in the oven. Roast until tender, 20 to 30 minutes, until most of the vegetables are caramelized. Remove from the oven and transfer to a large bowl.
3. Add the chickpeas to the roasted vegetables and toss with enough peanut sauce to coat lightly. Taste and add more salt or dressing as needed. Spoon into individual bowls and top with scallions and sesame seeds to serve.