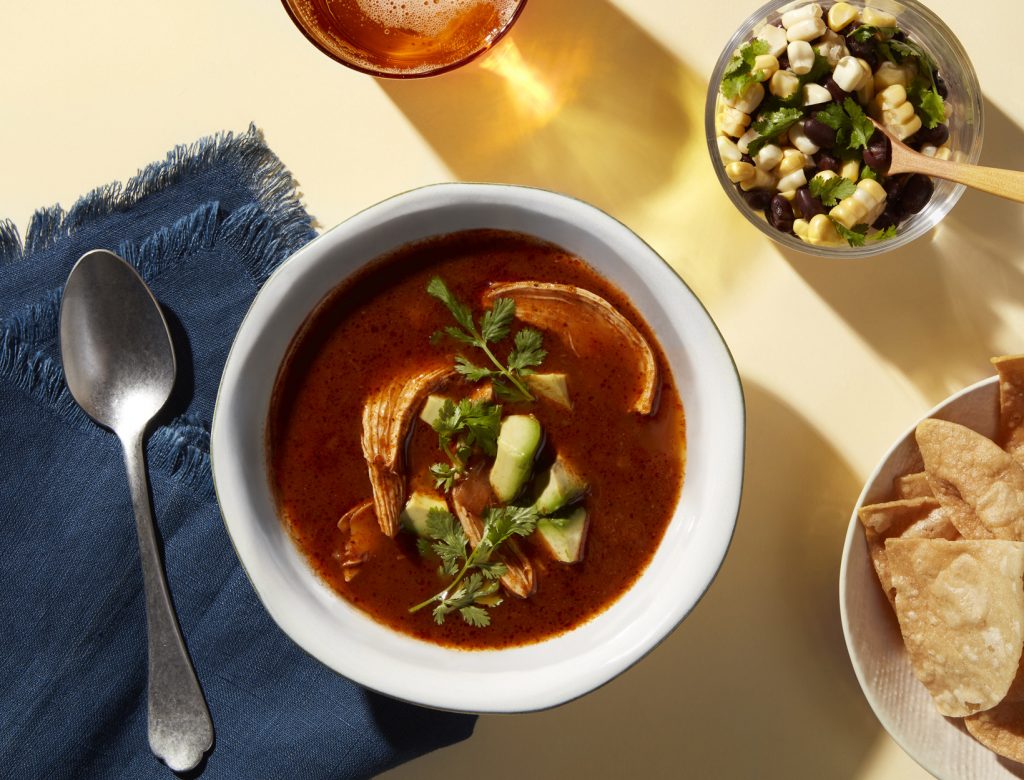 Tortilla Soup with Cowboy Caviar
This classic Tex-Mex favorite has got it all: spicy chilis, crunchy chips, and cool avocado. The cowboy caviar makes a great dip for chips, too!
for the soup:
4 tablespoons olive oil
1 yellow onion, diced
½ teaspoon cumin
1 tablespoon salt
1 tablespoon chipotle chili powder
½ cup roughly chopped cilantro
1 jalapeño, roughly chopped
zest and juice of 1 lime
1 (15-ounce) can fire-roasted tomato sauce
2 bone-in chicken breasts
1 quart chicken broth
for the cowboy caviar:
2 cups of raw corn (about 2 ears)
1 (15-ounce) can of beans
½ red onion, diced
½ cup pickled cilantro
½ teaspoon salt
juice of 1 lime
to garnish:
1 bag of tortilla chips
1 avocado, diced
1. In a large pot, heat the oil over medium-high heat. Sauté the onion, cumin, and chipotle chili powder until softened and fragrant.
2. Meanwhile, in a blender, add fire-roasted crushed tomatoes, cilantro, garlic, jalapeño, zest and juice of the lime, and 1 tablespoon salt. Blend until smooth.
3. Add blended mixture into the large pot with sautéed onions. Cook, stirring often, for 5 to 6 minutes.
4. Add the chicken breasts and submerge them into the thick tomato sauce. Add chicken broth, stir to combine, and bring to a boil. Cover and let simmer for 30 to 40 minutes, until the chicken is cooked through.
5. Remove the chicken, let it cool, then shred it (discarding bones and skin). Once shredded, add it back into the soup.
6. Finish with salt and serve with diced avocado, cowboy caviar, crushed tortilla chips, and pickled cilantro.
For the cowboy caviar:
1. In a medium-size bowl, combine all the ingredients for the cowboy caviar and mix together.
2. Let sit for about 10 minutes so the flavors really meld, then serve as garnish for soup. (This part can be done a few hours in advance; just cover and store in the fridge, then set out at room temperature for about 15 minutes before serving.)
Originally featured in Eat Well (and Shop Only Once) All Week