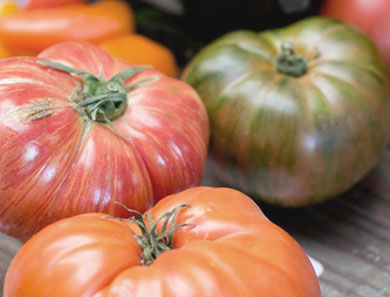 Tomato Burgers
Dan Barber, executive chef and co-owner of Blue Hill, shares a recipe of a dish you could expect to find at the restaurant.
for buns
1/3 cup plus 1 tablespoon almond flour
1/3 cup plus 1 tablespoon all-purpose flour
3/4 cup confectioners sugar
1/2 teaspoon salt
4 large egg whites, lightly beaten
2/3 cup extra-virgin olive oil
for tomato filling
2 medium tomatoes
1/4 cup drained sun-dried tomatoes in oil, finely chopped
2 tablespoons shallot, finely chopped
2 teaspoons balsamic vinegar
for goat-cheese filling
1/3 cup soft mild goat cheese at room temperature
3 tablespoons mascarpone
1 tablespoon chives, finely chopped
to serve
24 small basil leaves
1. For the buns: Preheat oven to 325ºF, lightly butter muffin cups (a mini-muffin pan with 24 [1/8-cup] cups is recommended). Whisk together all dry ingredients. Whisk egg whites into dry ingredients until combined. Add oil in a slow stream, whisking constantly. Divide batter among muffin cups. Bake until pale golden and springy to the touch, 20 to 25 minutes. Cool in pan for 5 minutes. Remove buns and cool completely on a rack.
2.For the tomato filling: Cut a shallow X in the bottom of each fresh tomato. Blanch in a saucepan of boiling water 30 seconds, then transfer to an ice bath. When cool, peel and seed tomatoes. Cut into 1/4 inch dice. Stir diced tomatoes together with sun-dried tomatoes, shallot, vinegar, and season with salt and pepper.
3. Stir together goat cheese, mascarpone, chives and a pinch of salt.
4. Halve each bun horizontally, then fill sandwich with 1 teaspoon tomato filling, a basil leaf, and 1 teaspoon cheese filling. Buns can be baked 1 day ahead and kept in an airtight container at room temperature. Tomato and goat-cheese fillings can be made 1 day ahead and chilled.
Originally featured in Hyperlocal Restaurants & Recipes