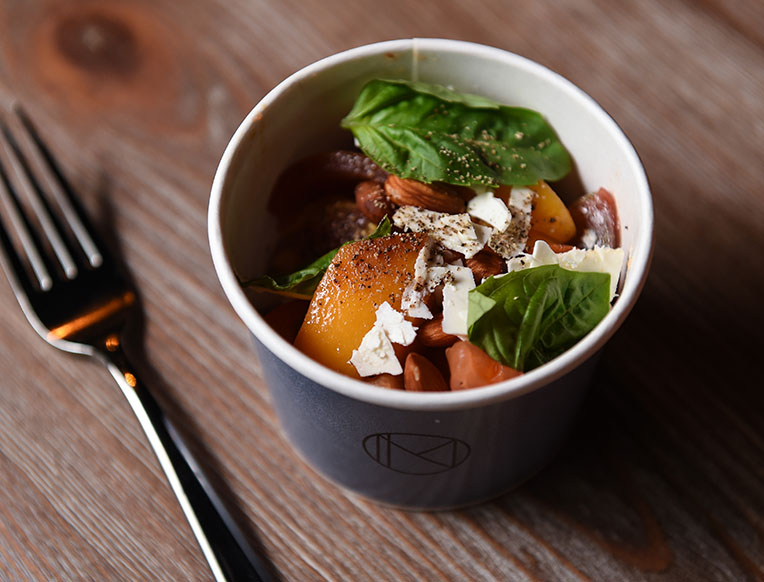 Tomato and Peach Salad
The multiple elements of this salad make it seem difficult, but the most complicated thing you have to do is just roast the peaches (which, particularly with the addition of the tin foil, is both easy to execute and clean up). It's definitely one of those dishes you can rely on for impressing guests.
for the confit oil:
600 g olive oil
5 cloves garlic, crushed
peeled zest of 1 lemon
10 basil leaves
3 sprigs thyme
2 sprigs rosemary
1 bay leaf
for the peach confit:
20 g salt
4 peaches
confit oil
for the roasted almonds:
50 g almonds
15 g confit oil
2 g salt
for the white balsamic vinaigrette:
195 g olive oil
65 g white balsamic vinegar
8 g salt
for the marinated tomatoes:
4 heirloom beefsteak tomatoes, quartered
12 basil leaves, torn in half
white balsamic vinaigrette
to finish:
ricotta salata, for grating
basil leaves
almonds
fresh-ground black pepper
1. To make the confit oil, heat the oil and garlic in a saucepan over medium heat. When the oil reaches 60°C/140°F, remove the pan from the heat and add the lemon zest and herbs. Let steep for 1 hour at room temperature. Strain the oil through a chinois, and set aside 15 g of the oil for the roasted almonds and 20 g for plating. Use the remaining oil for the peach confit.
2. To make the peach confit, preheat the oven to 105°C/225°F. Season peaches with salt. Arrange the seasoned peaches in a single layer in a roasting pan. In a pot over medium heat, heat the oil to 95°C/200°F and pour over the peaches. Cover the pan with aluminum foil and place in the oven. Bake the peaches until completely tender but not falling apart, about 2 ½ hours. Cool the peaches to room temperature in the confit oil.
3. To make the roasted almonds, preheat the oven to 150°C/300°F. Line a baking sheet with parchment paper. Combine the almonds, confit oil, and salt in a mixing bowl and toss to combine. Spread the almonds on the baking sheet. Toast the almonds in the oven until fragrant, about 10 minutes. Let cool to room temperature.
4. To make the white balsamic vinaigrette, combine the olive oil, white balsamic vinegar, and salt in a mixing bowl and whisk until fully emulsified. Reserve the vinaigrette in an airtight container and refrigerate until ready to use.
5. To make the marinated tomatoes, combine the tomatoes with the basil in a mixing bowl and dress with the white balsamic vinaigrette. Toss to evenly coat. Let the tomatoes marinate for at least 30 minutes, but no more than 4 hours. Remove and discard the basil before serving.
6. Divide the peaches and marinated tomatoes between four bowls and grate over a little ricotta salata cheese. Garnish each salad with the basil leaves, roasted almonds, and some freshly cracked black pepper.
Originally featured in The Los Angeles Food Truck Guide