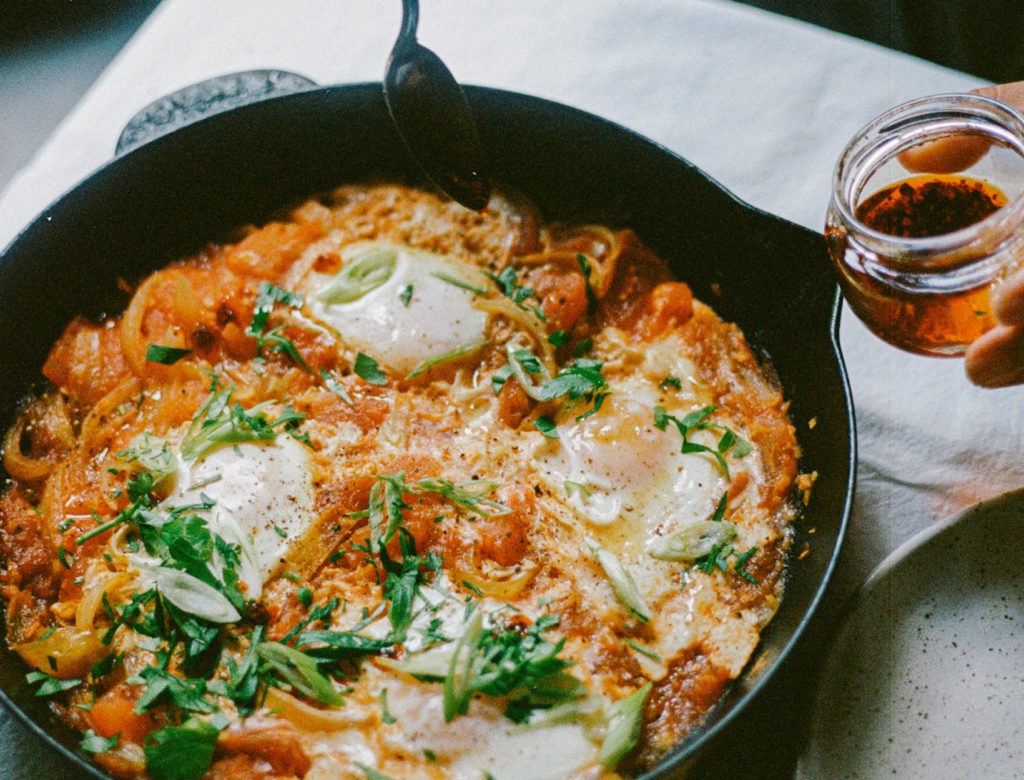 Tomato and Egg "Shakshuka"
McKinnon writes, "This is a classic hybrid dish, a clashing of cultures with spectacular results. Two loves combined—Chinese tomato and egg, a dish I tolerated growing up but now adore as an adult, reworked as a shakshuka. The recipe is an unassuming showstopper, offering all the distinctive sweet umami flavor of the classic Chinese dish, but with a very different sensibility. Serve with bread (or dare I say, rice?) to mop up the tomatoey juices."
ice cubes
4 beefsteak tomatoes
extra virgin olive oil
1-inch piece of ginger, peeled and finely chopped
1 onion, sliced into thin wedges
¼ cup brown sugar
4 large eggs
handful of cilantro leaves, roughly chopped
2 scallions, finely sliced
sea salt and white pepper
chili oil, to serve
bread, to serve (optional)
1. Set up a large bowl with ice and cold water—this is your ice bath for peeling the tomatoes. Bring a saucepan of water to the boil. Score a small x at the bottom of each tomato and add them to the boiling water until the skins wrinkle and split—this should take 1 to 1½ minutes. Remove from the water and drop them straight into your ice bath. Once the tomatoes are cool, lift them out of the water and peel away their skin. Chop the tomato flesh.
2. In a frying pan over medium-high heat, add a drizzle of olive oil, along with the ginger and onion; stir well and cook for 2 minutes. Add the tomato, then reduce the heat to medium-low and cook, covered, for 5 minutes. Add the brown sugar and a splash of water and squash the tomato a little to break it up. Cover and cook for another 2 minutes.
3. Make 4 little indents in the tomato mixture and gently crack 1 egg into each hole. Season with sea salt and white pepper. Replace the lid and cook over low heat for 5 to 6 minutes, until the whites are just set. Scatter with the cilantro and scallions and serve with everything oil and bread, if using.
From To Asia, with Love by Hetty McKinnon, copyright © 2021. Published by Prestel Publishing. Photography: Hetty McKinnon.
Originally featured in Standout Recipes from To Asia, with Love