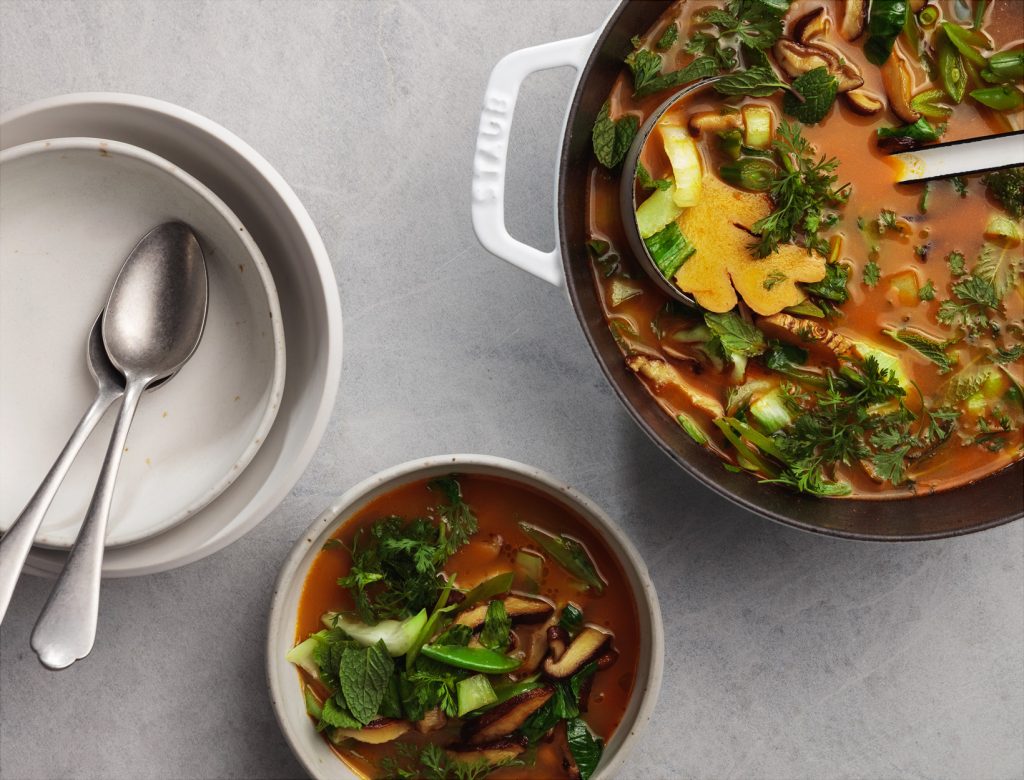 Tom Yum Soup
This detox-friendly, shrimp-free version of a traditional Thai soup is somehow both light and hearty. You'll feel satisfied by all the crunchy, refreshing vegetables, and you could drink the broth alone by the mugful.
4 cups vegetable stock
1 5-inch stalk lemongrass, cut into 1-inch pieces and smashed with the back of a knife to help release essential oils
3 inch piece of ginger, cut in half lengthwise
2 teaspoons salt
¼ cup Red Boat fish sauce
2 tablespoons red curry paste
½ cup canned coconut milk
1 tablespoon sunflower oil
5 shiitake mushrooms, thinly sliced
⅓ cup thinly sliced snap peas
1 bulb bok choy, diced
To garnish:
4 sprigs cilantro
2 sprigs mint
1. In a large stockpot over medium-high heat, add vegetable stock, lemongrass, ginger, and salt. Bring to a boil, then lower heat and let stock simmer. Add fish sauce, red curry chili paste, and coconut milk. Cover and continue to simmer.
2. Heat grape-seed oil in a medium saucepan over medium-high heat, then add mushrooms. Sauté for 6 to 8 minutes until browned.
3. In a soup bowl, combine 2 ladles of broth, a handful of bok choy, a handful of snap peas, and half of the mushrooms. Garnish with cilantro and mint.
Originally featured in The Annual goop Detox 2019