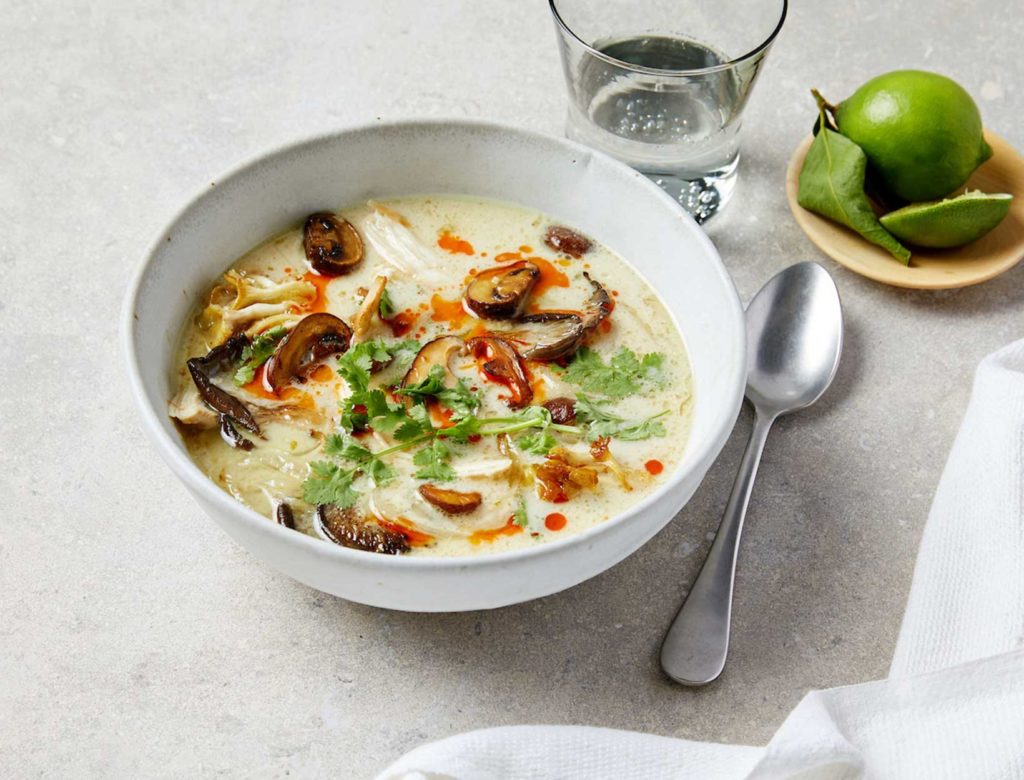 Tom Kha
Yes, this is our cheat version of the Thai takeout classic. Don't skip the fresh-squeezed lime at the end—it really makes it.
2 cups pulled cooked white and/or dark meat from a rotisserie chicken
1 3-inch piece lemongrass
3 cloves garlic
1 3-inch knob ginger
juice and zest of 1 lime
3 tablespoons grape-seed oil
1 small onion, thinly sliced
5 ounces mushrooms (shiitake, oyster, maitake, beech mushrooms, or any
combination of these will work great)
6 cups chicken stock
1 16-ounce can coconut milk
¼ cup fish sauce
For serving:
lime wedges
chili oil
cilantro
1. First, combine the lemongrass, garlic, and ginger with the zest and lime juice in a food processor. Pulse until finely chopped and almost pastelike. Set aside.
2. In a large, heavy-bottomed pot, heat about 3 tablespoons grape-seed oil over medium-high heat. Add the onion and mushrooms and a pinch of salt. Stir a few times, but mostly leave it be to help browning develop. Once the onions and mushrooms are browned and slightly softened (but not completely translucent or mushy), add the lemongrass paste. Next add the chicken stock, coconut milk, and fish sauce and let simmer for about 20 minutes. Just before serving, add the chicken just to warm it through.
3. Ladle the soup into bowls and top with fresh-squeezed lime juice, a dash of chili oil, and a handful of fresh cilantro.
Originally featured in Hacks to Make Homemade Dinners Better with Store-Bought Ingredients