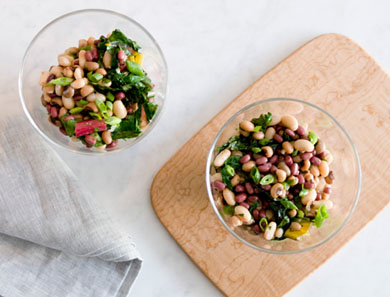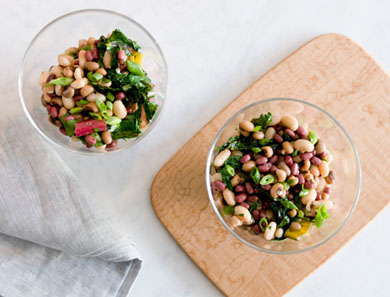 Three Bean Salad with Sautéed Chard
This is a great dish to throw in a jar or container and take to work for a healthy room temperature lunch.
1 1/2 cups (or small can) of cooked great northern beans
1 1/2 cups (or small can) of cooked adzuki beans
1 1/2 cups (or small can) of cooked black-eyed peas
1 cup packed rainbow chard, chopped (including some of the stems – they add color and texture to the salad)
2 garlic cloves, minced
healthy handful of parsley, chopped
3 scallions, chopped
1/4 cup olive oil (plus a tablespoon more for cooking)
1/3 cup white balsamic vinegar
1 teaspoon Dijon mustard
1/2 a lemon
salt + pepper
1. Place a large frying pan over medium high heat. Add a drizzle of olive oil (about a tablespoon) and the minced garlic. Cook for about 30 seconds until fragrant. Add the chard and cook for about 2 minutes, stirring throughout, until wilted. Drizzle with lemon to keep from browning and set aside.
2. In a small mixing bowl, add the mustard and the vinegar. Slowly drizzle in the olive oil until incorporated. Season with salt and pepper.
3. Add all the beans to a large mixing bowl. Pour the dressing over top and mix. Add the chard and the herbs. Mix to combine and season to taste.
Originally featured in Spilling the Beans