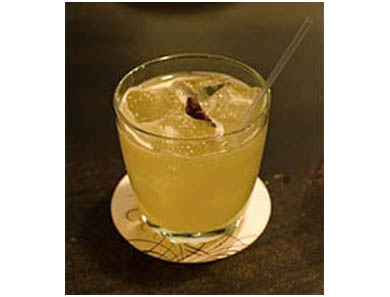 The Warsaw Mule
Prospect was one of San Francisco's biggest openings. Brooke Arthur, their bar manager, has created a pretty spectacular list of cocktails to give the menu a kick. She has shared her own Polish version of the classic Moscow Mule as a festive twist on the original.
1 teaspoon apple butter
3/4 oz fresh squeezed lime juice
1.5 – 2 oz Zubrowka vodka
Bundaberg Ginger Beer
2 dashes housemade saffron cardamom bitters (recipe below)
Star Anice for garnish
Pour all ingredients into a cocktail shaker and shake 20 times. Strain into a rocks glass with ice and top with ginger beer. Garnish with star anise.
* To make saffron cardamom bitters: combine 1 liter of overproof vodka with two tablespoons of cardamom and a pinch of saffron in a jar. Allow it to sit in the jar for 7 days, shaking once every day. At the end of the week, strain it before using in cocktails.
Originally featured in Cocktails