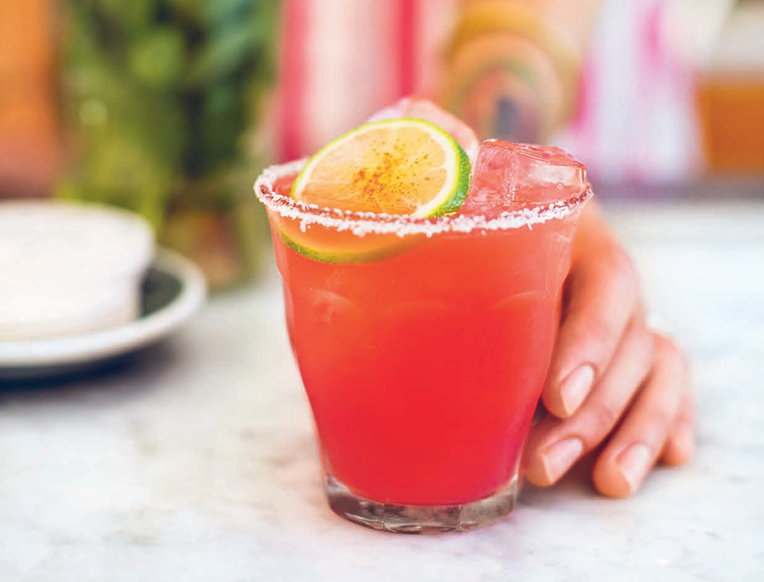 The Pink Guzzler
This might be the most refreshing cocktail we've ever tried. Watch out though—it lives up to its name. You'll want to guzzle these all day long.
2 tablespoons kosher salt
2 tablespoons sugar
1 wedge lime
2 ounces good-quality tequila
1½ ounces fresh watermelon juice
½ ounce fresh lime juice
½ ounce simple syrup
dash cayenne pepper
1 small wedge watermelon or lime, to garnish
1. Cut a ripe watermelon into small cubes, making sure to discard all the seeds. Place in a blender and purée until completely smooth, then pour the juice through a fine-mesh strainer.
2. In a small bowl, combine the salt and sugar.
3. Cut into the flesh of the wedge of lime and place it on the rim of a large rocks glass or margarita glass. Run the lime around the rim of the glass until it is completely dampened with the juice from the lime. Turn the glass upside down and dip it into the sugar mixture so that the mixture adheres to the rim.
4. In a cocktail shaker, combine the tequila, watermelon juice, lime juice, simple syrup, and a dash of cayenne pepper. Fill with ice and shake vigorously. Pour the contents of the shaker into the glass and garnish with a small wedge of watermelon or lime.
From Jack's Wife Freda: Cooking from New York's West Village by Maya and Dean Jankelowitz. Recipes by Julia Jaksic. Published by Blue Rider Press, an imprint of Penguin Publishing Group, a division of Penguin Random House LLC. Copyright © 2016 by NoamBennyLLC. Photo: Henry Hargreaves
Originally featured in goop Cookbook Club: Jack's Wife Freda