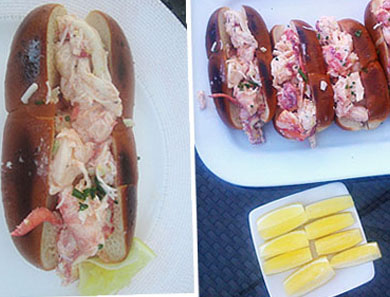 My old dear friend (of 25 years) Patrick Keane shows us how to make his amazingly perfect lobster rolls.
1. Add 2 bay leaves and 30 black peppercorns to shallow water (about 2-3 inches deep) in a large pot. Add lobsters, cover and steam for 12-15 minutes, until bright orange/red.
2. Let cool to the touch, then bash 'em open with the back of a sturdy knife. Remove all the meat.
3. Cut lobster into bite-size pieces and put in a mixing bowl. Add lemon zest, lemon juice, melted butter, mayo, celery, salt and pepper to taste. Combine.
4. Heat buns in the oven on 225° for 10 or so minutes to dry them out. Brush split buns with the remainder of the melted butter and toast them in a dry sauté pan, turning frequently until toasted.
5. Fill buns with meat and sprinkle with more chives and a squeeze of lemon if you fancy. Serve with fries.
Originally featured in The Lobster Roll