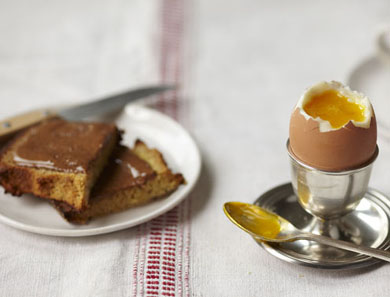 The Perfect Boiled Egg
If you're used to toast and eggs in the morning, you can still have them, but try a 21st century update. Instead of frying your eggs, boil or poach them and swap out old-school, processed Franken-bread for gluten-free toast.
Egg
Paleo Bread
Nut Butter
1. Put enough water in a saucepan to cover your egg (or eggs) by about a 1/2 an inch. Bring the water to a gentle boil and carefully lower your egg into the water. Let egg simmer for exactly one minute, then turn off the heat and cover for 6-7 minutes depending on how runny you like your eggs.
2. Serve your boiled egg with a piece of Paleo bread or gluten-free toast smeared with a nut butter. (We used almond butter on ours.)
Originally featured in A Better Breakfast